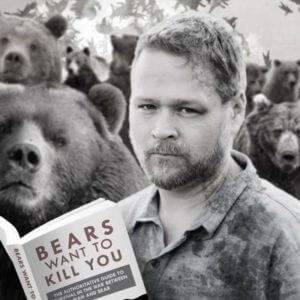 Jon and Stephen welcome Ethan Nicolle, author of the soon-to-be bestseller Bears Want to Kill You: The Authoritative Guide to Survival in the War Between Man and Bear. Ethan is the creative director for Christian satire site The Babylon Bee and co-created Axe Cop, a webcomic which was turned into animated TV show on Fox and FXX. He also co-hosts the Audio Mullet podcast with Doug TenNapel of video game Earthworm Jim and Mike Nelson of Mystery Science Theater 3000.
Then the Conservatarians discuss "Game of Thrones" and the latest anti-abortion laws in Alabama and Georgia. The intro/outro song is "Unbearable" by The Wonder Stuff. Jon's song of the week is "Davni Chasy" by The Wedding Present and Stephen's album of the week is I Am Easy to Find by The National. To listen to all the music featured on The Conservatarians, subscribe to our 2019 Spotify playlist!
Subscribe to The Conservatarians in iTunes (and leave a 5-star review, please!), or by RSS feed. For all our podcasts in one place, subscribe to the Ricochet Audio Network Superfeed in iTunes or by RSS feed.