Welcome to another in our continuing series of conversations, exclusive produced for Thatcher and Reagan level Ricochet Members. This month, Peter Robinson and Rob Long sit down with Peter Thiel.
A venture capitalist, and hedge fund manager, Thiel cofounded PayPal with Max Levchin and Elon Musk and served as its CEO. He also cofounded Palantir, of which he is chairman.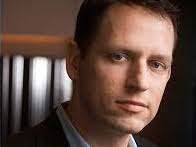 He was the first outside investor in Facebook, the popular social-networking site, with a 10.2% stake acquired in 2004 for $500,000, and sits on the company's board of directors. Thiel was ranked #293 on the Forbes 400 in 2011, with a net worth of $1.5 billion as of March 2012. Thiel's new book is Zero to One: Notes on Startups, or How to Build the Future, which they discuss at length.
Subscribe to Premium Podcast: In Conversation by RSS feed. For all our podcasts in one place, subscribe to the Ricochet Audio Network Superfeed in iTunes or by RSS feed.