If you're not already subscribed to the Superfeed then you're missing out! Subscribe now in iTunes, Stitcher, Google Play, or directly to the RSS feed in your favorite podcast app. iTunes is the most popular subscription option and the more positive reviews we receive the more exposure we'll get and the more listeners will tune in. If you enjoy listening to any of our podcasts, please leave a positive review.
To leave a review in iTunes, you need to first open iTunes, select the Store and enter "ricochet.com" into the search bar then hit enter:

That will bring up this screen: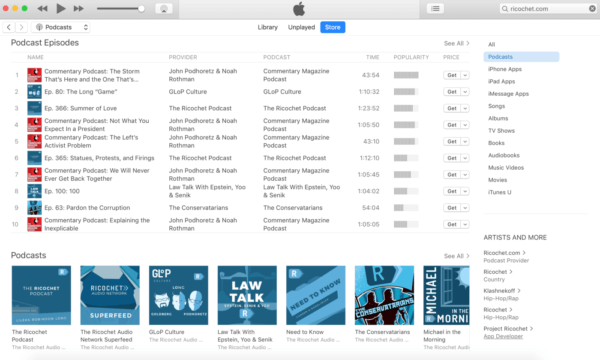 In the "Podcasts" section, click on the show you want to review. If you don't see the show, you can scroll that section to the right, or click "See all."
On the podcast show page, click the "Ratings and Reviews" item: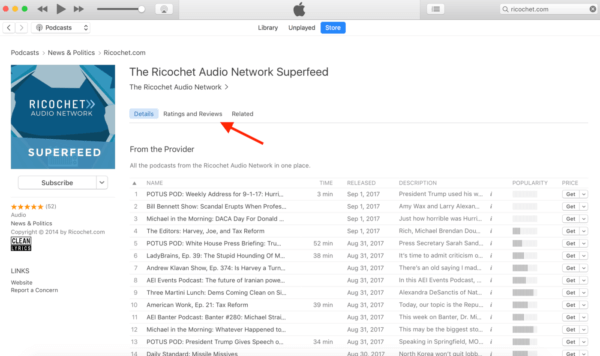 Now click the "Write a Review" button: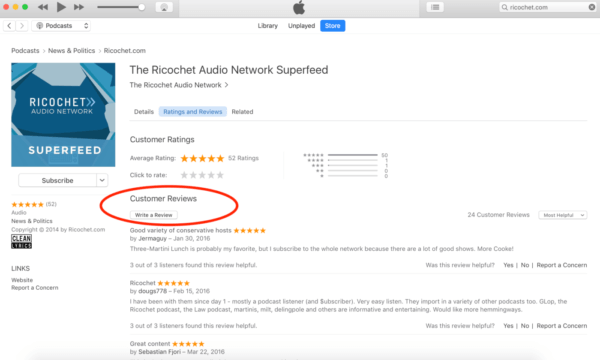 Your review doesn't have to be long, but I hope you can give us 5 stars! Just don't forget to click the "Submit" button when you're done.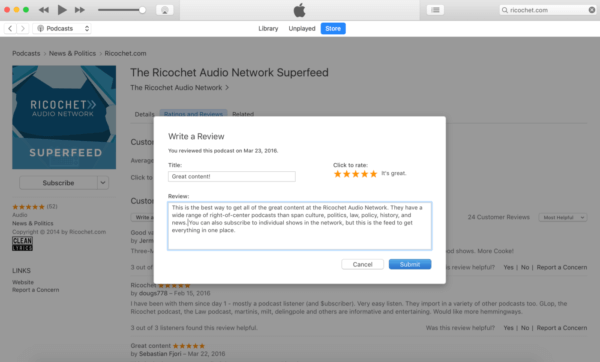 Once you're done, don't stop there! We have many shows and I hope that you will leave positive reviews for all the ones that you like to listen to. We have such a wide variety of podcasts that I hope you enjoy many of them. However, of course not everyone will enjoy every single show — please remember what your mama told you about what to do when you don't have something nice to say, though. We'll be happy to take any criticism or suggestions on the Member Feed.