One of the best things about Ricochet is that our members self-enforce the Code of Conduct ("CoC"). This is as it should be; it's how the site is designed to work and it keeps conversation smart and civil. Occasionally, however, things break down and it's necessary to notify the staff and moderators through flagging. This article explains how this process works and what happens when you flag a comment.

Tom is clearly out of line here (that jerk). To notify the moderators and editors, just click the "FLAG" link. This will launch a little window below where you can explain the flag. Though this is not always necessary, it's often helpful to explain your reasons for flagging; if it's not obvious, cite which section of the CoC you believe the comment to violate. If you accidentally click the flag button or change your mind, you can still cancel it at this point.

When you're all set, click the blue "FLAG" button at the bottom. After this, a brief note will appear thanking you for the flag, which is on its way.
To where? To whom? Seconds later, this appears in Slack — the collaboration software we use — this appears on the moderator/editor channel: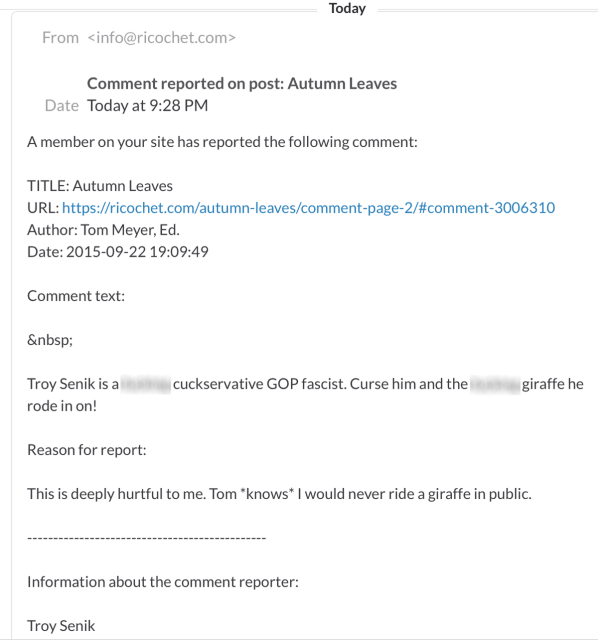 Note that your screen name appears, though we will keep this private. The person whose comment was flagged is not notified by the system.
Again, this message appears where it can be seen by the moderators and editors. Before long, something like this will happen:

What happens next is dependent on the nature of the offense. If the violation is borderline, a moderator's intervention may be sufficient. Other times, a redaction and/or editors' note may be called for. Under some circumstances, further response may follow.
A few notes on flagging:
A flag need not request (or require) action. If a conversation looks like it might be about to go off the rails, it's helpful for us to know about it before it goes there. Again, this is where the explanatory text can be extremely helpful. If you don't think anyone has really stepped over the line, say so.
Please note that only editors have the ability to edit a comment or post; moderators can notify editors and try to moderate conversations, but they do not have the ability to change text.
Though Ricochet is open 24/7 hours a day, our editors and mods are not (though it does sometimes feel that way). Depending on time zones, the time of day, and other circumstances, response may not be immediate.
If you believe a flag has been ignored, it's possible that it got missed in the shuffle (sometimes, Slack gets busy, or someone gets distracted). If this happens, please consider either re-flagging the comment or emailing us at [email protected]