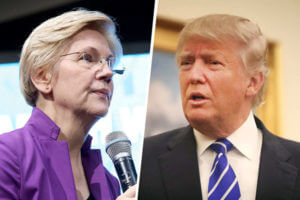 Sen. Elizabeth Warren is known for lying about being Native American to get a job at Harvard, but she's not the first "Fauxcahontas" I've come across. As some on Ricochet know, I was once in the cheese business. About 20 to 25 percent of my business was with the DOD. They bought what was commonly referred to as commodity cheese. Think gasoline. For the most part gasoline is gasoline is gasoline as long as it meets certain standards. If an intersection has four gas stations, everything being equal, you buy from the one with the lowest price. The cheese that the DOD bought was like that.
The contracts were given to the lowest bidder, period. Bids were priced to the tenth of one cent. If two bidders were tied, the contract was rebid. Ties were fairly common. My gross markup was often about 10 percent. This gives you an idea how competitive it could be. I usually had a dedicated crew of about 30 souls including truck drivers assigned to this segment of the business. As competitive as it could be, I still thought it was worth it. They bought large volumes which helped my buying power and they paid well (most of the time).
All was well until sometime in the late '80s. That is when affirmative action was introduced to the bidding process. In all their wisdom, Congress gave "minority " bidders a 10 percent advantage. Even after its introduction, I got my share of business. It wasn't something that could easily be replicated.
Then in about '92/'93, I began losing every bid and so did all my competitors except for a new one. It was a minority bidder in Wisconsin identified as a female Native American. This went on for months. I had no choice but to institute the first-ever layoff at my business. This company came out of nowhere. Rumors started up, claiming that things were not as they appeared. Deliveries were not being made in a timely manner, if at all. The owner did not appear to be Native American. I hired a private detective.
I turned out that the owner wasn't Native American — in fact, she wasn't American at all. She and her husband were Russians. They were allowed in the US because they claimed religious persecution. They were Jewish, perhaps, at least that was their claim. What they really were was crooks. They had rented a small, bankrupt cheese plant and got favorable terms from the local government and bank. They defrauded their bank, were borrowing against their DOD contract, and not delivering the entire amount so they could pocket the difference.
You ask how this could happen. It took a long time to sort out. The minority status was self-reported and the DOD was not allowed to challenge the claim. Even with my PI report, they were forbidden to intervene, even as their logistics system was in chaos. After a certain time, if a bidder didn't deliver, they could rebid the contract but, as crazy as it sounds, the minority bidder also could rebid — and did. I finally bit the bullet and got my congressman, Rick Santorum, involved.
I never found out how he did it, but Santorum got it straight quick. Within two weeks, I was getting contracts again. After a couple of years, the Native American Russians went to jail. Meanwhile, I had 30 displaced people whose lives were totally disrupted. They all had family. Two divorces were blamed on the layoff. I lost half of my team and had to hire and train new employees. All because of a Fauxcahontas or a Lieawatha.
Sen. Liz Warren probably didn't affect as many lives, but she took someone's position who was more worthy than her. She undoubtedly filled young skulls full of leftist mush at Harvard. Her very Senate seat is fake owing to deception. She is a thief and a liar. I have more respect for someone who shoplifts at a convenience store. If I had the same opportunity as President Trump, I would call her a lot worse than Pocahontas.