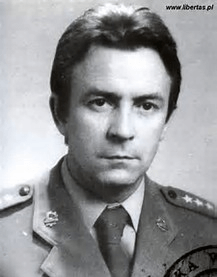 During the 1970's and 1980's, a quiet, unassuming officer in the Polish Army was quickly rising in the ranks. Russia succeeded in beating back the Nazis during World War II, declaring victory in Poland and Eastern Europe. The Polish people, relieved to be rid of Hitler's monstrous machine, tried to adjust to life under Communism. Yet the Polish people never really relinquished their freedom. Ryszard Kuklinski mirrored the Polish heart. Three things meant everything to him and all Poles, above anything else in life – a deep, unwavering devotion to family, the Church and Poland.
Small in stature, with sandy colored, wavy hair and gentle blue eyes, his laid back, easy going manner and boyish humor hid a sharp intelligence with a keen eye for meticulous detail, as well as a tough constitution and tireless work ethic. These skills did not go unnoticed among the Soviets. However, he learned hard lessons quickly. For example, making an off color joke about communism among the wrong crowd immediately drew suspicion about his loyalty and he was stripped of his high rank. He had to be re-indoctrinated and start over, and it took years to regain his former rank. Another lesson was found in Vietnam, where he was part of an "observation team". Kuklinski heard about the Americans – nothing good. Yet he saw something different – respect. He noticed the devotion between officer, all military personnel and leader, that none of the fallen, alive or dead, would ever be left behind. They risked all for each other. Love and kindness combined with strength, even during war – he never forgot.
Kuklinski found himself privy to extremely high level information that he was constantly asked to review, rewrite and direct. He commanded troops, composed war games, was trusted to help create the new war machine – the one that he soon realized would decimate his beloved Poland.
Kuklinski realized that the Soviet Union had big plans, and Poland was a mere pawn on their global chessboard. He discovered concrete evidence that the Russians were planning a massive invasion of Western Europe, except for one thing, a wrench in the plans…. there were the Americans. The Russians knew the United States could go nuclear if need be, to stop them, and to the Soviets, ground zero was Poland. They would fight it out there, using Polish military and all its country's resources, then move on to Germany, Holland, Belgium and France.
It was then that Kuklinski decided to contact what he thought was American military personnel. He knew the United States was Poland's only hope of survival. In fact, who he really contacted, was the CIA.
Thus began his clandestine journey for 10 long, terrifying years. His wife and family never suspected a thing. They supported his long work hours, his "new" photography hobby – late hours in his dark room with the music cranked, days and weeks away, constant tension, and fatigue. His wife was his rock. How do you adjust to life looking over your shoulder for years, fearing for your family, your life? For Kuklinski, there was no alternative and he persevered. Once, so engrossed in thought, he walked out of his office with a briefcase full of classified documents and film and ran into a concrete pillar, knocking himself out for a minute. When he came to, he was surrounded by passersby, trying to help him up and holding his briefcase! Although bloody and dizzy, he waived off help and grabbed back his briefcase, barely conscious, stumbling home.
Another time, extremely weak and barely able to function, from weeks of a severe bout of the flu, he continued gathering and photographing key documents, despite his family and colleagues suggestions to rest. Their devotion to each other as a family never wavered. They never questioned his behavior. Kuklinski also never asked for compensation for his perilous efforts. He made it clear; he had no desire to ever leave his beloved Poland, only as a last resort to save his family.
From 1971 to the eve of martial law in Poland in 1981, Kuklinski supplied every detail, thousands of documents and other material to the United States, of the plan to use Polish territory with three million Soviet soldiers, a million tanks and 3,200 military trains transporting weapons and explosives, for the invasion of Western Europe.
Ex-filtration plans had been set up from the beginning. He developed a few deep, personal relationships with several agents involved in the mission, and when the time came where the invasion plans were beginning to be put into play and martial law was declared, he came clean with his family and they made a decision, leaving family, who had no knowledge of the events unfolding, friends, property, their dog. Within 48 hours of his confession, in a long, harrowing, perilous journey, they made it out of Poland to the United States. The United States, using diplomatic means, but prepared for the worst, confronted the Soviets and succeeded in stopping their plans.
Kuklinski and his family were given new identities and living accommodations, and he continued to advise the highest levels of our government. His desire to return to Poland, if only for a visit, came decades later. He was considered an outlaw, a traitor. He also suffered tremendous back to back tragedy. His eldest son went missing off the coast of Florida some years later, and his body was never found. He thought Cuba and the Soviets were involved. Then only six months later, his younger son was killed in a hit and run "accident". When they found the car, there were no fingerprints inside the vehicle.
Ryszard Kuklinski received the highest award offered by the CIA. He did regain his family honor, and returned to Poland for a visit, and was stunned by the tremendous outpouring of love and honor from the Polish people. The charges of treason were dropped. Some say he stopped the beginning of World War III. As a Polish American, I never knew until recently about the communist invasion plans of the 1980's or of this amazingly, brave, selfless soul. I was forever changed and humbled reading his story called, A Secret Life by Benjamin Weiser, and never prouder to be Polish.
I also doubt that this is the end of this story, the end of the fight for freedom and liberty. Poland held onto the belief freedom would someday return, and they have never taken it for granted, a powerful lesson in today's uncertain world. Please watch this moving tribute to Col. Kuklinski: