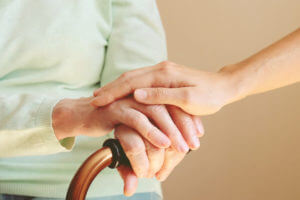 A few days after my Mom went Home to be with Jesus, I started promoting a GoFundMe page to get help to keep my house. A stranger on Facebook commented that I should have been working instead of watching TV for all of those years. I brushed it off because at the time I was too busy grieving and worrying to care about some stranger's stupidity. You see, a lot of people really do not understand what being a caretaker involves; even those with family members or friends who are caretakers, cannot fully grasp the life of a caretaker.
According to the Family Caregiver Alliance, there were about 43 million unpaid caretakers across the nation in the 12-month period for which they were reporting. That isn't surprising. There are still a lot of people out there who care for their families and friends. However, what their page full of statistics does not mention is every caregiver/care receiver situation is as unique as the individuals involved. There are similarities, but when you include personalities, various diseases and level of need, financial situation, outside medical care and many other factors, the variables are countless. I can only speak of my own situation to try to explain what it means to be a caretaker.
Mom had COPD (Chronic Obstructive Pulmonary Disease) and arthritis. In the last few years, she became a little more forgetful, but never showed signs of full-on dementia. She kept her brain busy with crossword puzzles, solitaire, reading and listening to Rush Limbaugh. She never stopped learning. Until the last few months of her life, she was ambulatory, but too much exercise wore her out quickly; she had to learn how to take it easy and let me do things for her. She always had trouble sleeping and that just became worse when she couldn't sleep in a bed anymore (for about 15 years, she slept in an easy chair). She enjoyed long, interesting conversations about the Bible and politics, and she loved to reminisce about days gone by. We would get on each other's nerves once in a while, but what a tremendous blessing it was to be here for her. I took care of her, 24/7 for 13 years.
It is easy for outsiders to judge the life of a caretaker, especially when the care receiver is cognizant and engaged in life. People tend to think that the caretaker should be able to go on with life as usual after doing a few things for their loved one. Daily responsibilities include fixing meals, laundry, cleaning and running an occasional errand. That part is easy. Caretakers must also know which medications are to be given, what the dose is, what the medicine does and when to give it (there are many).
With Mom, there were also many daily breathing treatments, making sure the oxygen concentrator filters were cleaned and the humidifier filled; keeping track of oxygen tanks and making sure the regulators were properly set, and when the oxygen equipment needed to be serviced or replaced, I am the one who made the calls. Getting Mom to the doctor's office was another task to be dealt with. I also made sure the chair she slept in was made up like a bed, with sheets and blankets, and every night I would help her settle in. Making certain that Mom was as comfortable as possible was not only my job; it was also my greatest blessing. Caring for the one who cared so much for me was my purpose, and I loved it.
Caretakers seldom go places and do things with friends, because they can't leave the one they care for alone for long periods of time. This makes it difficult to maintain friendships. Even real friends don't understand why you can't get out of the house for a while, and eventually they fade away. The lack of friendships never bothered me much, because Mom was awesome. Our endless conversations were filled with laughter, learning and a lot of joy; gifts straight from God. There were some rough times; we didn't always see eye to eye, but we always got through it. The blessings of being a caretaker far outweigh the curses. Time sort of stood still for us, as we learned and grew together. I wouldn't trade one second of time with my Mom for anything.
I used to say the hardest thing I have ever done in my life was picking my dying father up out of a wheelchair and setting him on the toilet; not so hard physically, as it was emotionally. Yes, I took care of my Dad, too. The strongest and most capable man I ever knew; his body became so weak, but his spirit never did. That was the most difficult moment in my life, until I listened to the 9-1-1 operator instruct me in giving Mom chest compressions, as she lay on the floor waiting for the paramedics to arrive; her beautiful blue eyes, staring lifelessly into oblivion. The paramedics got her vitals back and took her to hospital. Standing on either side of her bed, my sister and I held her hands as her weakened heart quietly stopped.
The house is quiet now. Yes, I've been told, I need to learn to care for myself. However, Mom is my life, and now I must learn how to live without her. If you are a caretaker, God bless you for what you do. May He give you wisdom, courage, and strength. If you know a caretaker, please pray for them and be kind to them; they are going through things you can't understand. Life is precious! Enjoy each blessed moment, and don't ever give up on your loved ones when they need you; that is what it means to be a caretaker.
Complacency is not an option.