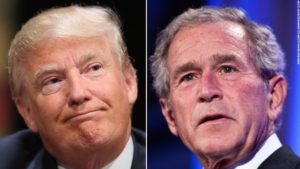 There was a long discussion after a Harvard Lunch Club podcast called the "Never Trump Edition" in which the conversation veered into a place I found interesting. There is a notion now on many Ricochet threads that asserts that Donald Trump is the "most conservative president in the White House since Eisenhower."
So @drlorentz asked this question: "What good did GWB do during his tenure besides being NotGore or NotKerry?" I think that question deserves some exploration.
George W. Bush was definitely not as conservative as Ronald Reagan, but it seems to me that people have forgotten some of the things that he did that were very, very, very conservative.
For example, as the healthcare debate continues with no resolution in sight, I would remind my fellow Ricochet members that Health Savings Accounts came into being during W's tenure.
How did those work?
Younger people could buy high deductible insurance plans in the healthiest stages of life, while putting aside tax-deferred money in a special account to meet future healthcare needs.
What was the idea there?
Instead of being disconnected from the cost of going to a doctor because of a plan that required a $10 co-pay, these people paid more bills out of their HSAs. This added a free market element to healthcare, which is ultimately what conservatives — per my understanding of what those are — believe is necessary to fix our God awful healthcare mess.
How did HSAs work in the real world?
I will never forget my son breaking his arm while we had a high deductible and a Health Savings Account. When I got the bill, I thought it was ridiculous. I went to our doctor's office manager to discuss this. I whipped out my HSA card and said I'd clear up the bill right then, but I was paying it all outright, and the bill was too high. Couldn't we talk about the charges?
She smiled and said, "You'll pay right now? You know what? It's your lucky day. We're having a fire sale on broken arms. How about a 20% discount?"
YES!
So under Bush I got an HSA and more control over my family's healthcare, whereas Donald Trump calls cuts to Medicaid "mean."
To be honest, I'm not truly sure what it is Trump likes or doesn't like about the current proposals for healthcare reform apart from the idea that he wants to sign something, but Bush did help with a conservative initiative there.
One of the things that completely flummoxed me about Obamacare is that it limited HSAs. (Whyyy?) Those would have allowed young people to save for the big costs when they were older, which might have eventually allowed us to think about reforming Medicare.
Do you remember when Trump signed an executive order to end the Johnson Amendment? Do you also remember that this executive order—while applauded for being in the right spirit—was so weak that the ACLU decided not to challenge it?
Well, I remember George W. Bush's Office of Faith Based and Community Initiatives, which allowed faith-based organizations to have access to federal funds. This is tied to the idea that religious organizations should not be discriminated against simply because the people who work within them wish to serve others because of their devotion to Jesus Christ. (The horror!) Isn't that pretty conservative?
The first person Bush appointed to lead the OFBCI was none other than Don Willett, a judge who made Trump's "short list" for the Supreme Court and is well known for how he uses Twitter to communicate with constituents. (I think Trump should take lessons from Don. That Willett feed is fabulous and a great example of how social media can be a positive workaround of the media without getting anyone in trouble.)
The ACLU bothered to sue over Bush's program.
Speaking of the Supreme Court, one might recall that Bush appointed John Roberts and Samuel Alito.
I know, I know.
People have issues with the Roberts' ruling on Obamacare, and these objections are principled objections for sure.
But Roberts has had an overall conservative approach to the law. His dissent on Obergefell is absolutely spot on. He is no Kennedy squish, that's for sure.
Then there's Samuel Alito. Goodness gracious. He's almost in the Clarence Thomas camp, and Clarence Thomas? While a George H. W. Bush appointee, he is the most conservative judge on the Supreme Court.
So if Trump gets massive conservative cred for Gorsuch — as he should — we can't forget Sam. Bush did that. And, uh, if Gore or Kerry had been elected? The court's balance would look very different today.
Looking at entitlement reform, George W. Bush pushed to privatize Social Security. That was about conservative ideology. It didn't happen, but Donald Trump has been clear on the fact that he won't touch this program at all. I'm not sure how Trump gets "more conservative" points on that front.
For those of you who are now screaming about Medicare, I'll say, yes. W had the Medicare expansion that got senior citizens free drugs. I'll grant every day that bit of "compassionate conservatism" didn't end up great, and Bush was horrible with restraining spending.
But isn't the Medicare expansion kind of equivalent to pushing for more funds to combat opioid addiction? Or let me go a little further.
As an entitlement, how is Trump's proposal to create paid parent leave ideologically different — or ultimately less expensive — than paying for some seniors' drugs?
Per the reasoning behind W's drugs and Trump's babies, aren't we kinda on the same "compassion" page when we get right down to it?
Then there's foreign policy.
I don't understand the complete amnesia people have about 9/11.
Did we as a people not want to lift W up on our shoulders and start weeping in gratitude when he stood atop the rubble of our buildings and put his arm around the fireman? When he took that megaphone within his own hand and spoke to all of us? Was that not W saying the United States is the greatest country on Earth, and we will not tolerate people attacking us?
Granted, during those years he made plenty of mistakes. I'm not denying this.
Perhaps he was sometimes too Wilsonesque with his speeches about spreading democracy around the world, but didn't Reagan use some of the same sort of language?
On that front, I think some people say Trump is more conservative than Bush because his rhetoric is more about staying out of other countries. Trump is less neo-con, more paleo-con. (In general, I think that's true.)
Yet these people go back to Eisenhower as the last "real conservative" before Trump, and I recall Ike meddled quite a bit in the affairs of other countries.
Do people mean something different?
So … Iraq again.
Wasn't that a stable country when Bush left office? I mean, I kinda thought it was. Afghanistan? Not so much. Iraq?
George W. Bush took the advice of his commanders, which conservatives tend to think is a good thing to do, and pushed for the Surge, right?
Wasn't it Obama who messed that whole thing up?
Then there's North Korea.
Isn't Donald Trump trying to work his way back to the same level of sanctions that Bush had?
Now, let me say, I love me some Mattis, but how is what Trump is doing that different from that which Bush did?
Some say Trump is "stronger" as people believe he'll use force when necessary.
But people clearly thought Bush would use the military to do things. He did! People called him a "cowboy" in the press, which I always thought was funny because — well — who doesn't like John Wayne?
So Bush made mistakes, but he also communicated strength.
By the way, George W. Bush was pretty popular as far as members of the military go. If anything, he's become more popular with them because of how he has treated the men and women who have served. And, while Dan Rather may have derided Bush's service, there is a bit of cachet in the fact that the man could pilot a plane. (As a sidenote, George H. W. Bush's service cannot be derided at all, and I think that normally gets a bit of respect from conservatives.)
Then there was Iran.
Bush was pretty unequivocal about the Iranian regime being part of an axis of evil. Didn't his policies help set up the Green Revolution, which — again — Obama squandered? (How is that Bush's fault?)
Per Russia, after he got over gazing into eyes and thinking he knew "Putin's heart" — Good Lord! — Bush had the sense to start lining up deals to increase our missile defense shield.
Isn't that what Trump is doing now? Reviving what Bush had already done in Poland?
Look. I'm not trying to take away anything from Donald Trump in this post, but I don't understand why so many people here sound like they work for the New York Times when talking about W.
Bush was more moderate than Reagan, more conservative than his father.
I'll have to wait and see if Trump is "more conservative" than Bush. However, I think I've shown Bush was more than "Not Gore" or "Not Kerry" in ways that were more substantive than just being polite.
I hope I have anyway.
I've got a soft spot in my heart for W, and I don't think his legacy in the pantheon of American presidents is anywhere close to being understood.
As for Trump?
He's just started. We have a long way to go to understand the real impact of either of these men.