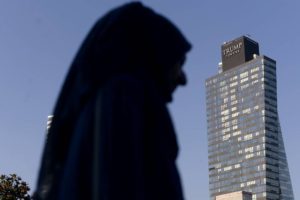 News broke Thursday that Donald Trump will be an Executive Producer for the reboot of "Celebrity Apprentice." While Arnold Schwarzenegger will host, NBC will cut President Trump sizable checks as long as the series is produced. It will require some actual work apparently, since Kellyanne Conway said he will handle it in his "spare time."
Since he created the franchise it makes sense to attach his name to the credits, but I hope our 45th president doesn't actually moonlight. Just take the check (no different than presidents receiving book royalties) and let Arnold handle the showbiz day-to-day. It's even a political opportunity; sign over the checks to the US Treasury to symbolically help pay down the national debt.
But the perils for NBC are great. Not only will the rest of the media be troubled by NBC News's apparent conflict of interest, the network should anticipate mass boycotts and protests against any companies that advertise on "Celebrity Apprentice." Seeing how furious the anti-Trump left has been in the few weeks since the election, they must drool at the potential to strike his corporate allies in the pocketbook.
But it won't end there. Celebrities, professional athletes, and conference organizers have already announced boycotts of Trump properties, while angry demonstrators have circled his various buildings around the country. If you're considering a hotel stay in Chicago or buying a pied-à-terre in Manhattan, would you want that hassle when you just want to get to your room for the night?
These, however, are conventional business difficulties; when you look overseas, the possibilities are much more dire. City officials in Vancouver and Toronto have already called to remove Trump's name from buildings, and there are concerns that his statements about Muslims could harm his fortunes in the Middle East. But harm to his brand and balance sheet isn't the real danger.
Trump has properties in some very dangerous neighborhoods. Turkey has been rife with Kurdish and Islamist terror attacks. Since these thugs crave international headlines, Trump Towers in Istanbul should significantly upgrade their security. Dubai is relatively safe, but Trump International Golf Club isn't far from waters with an Iranian navy that won't take kindly to a newly assertive America. Baku, Azerbaijan and Mumbai host Trump facilities and have recently had high-profile terror plots.
Philippines President Rodrigo Duterte, the so-called "Trump of the East," is waging a war against the brutal Moro Islamic Liberation Front. His capital features its own Trump Tower. God forbid if anything were to happen to the above properties, or the seemingly softer targets in Brazil, Panama, South Korea, or Uruguay. Nonetheless, bad actors are desperate to garner headlines in the western media; what would get more coverage than a symbolic strike at the President of the United States?
The financial danger to Trump, Inc. is significant, but the physical threats are far more distressing. Obviously management should harden all of these sites, train the staff as if they were working in a US embassy, and dramatically increase the security budget and personnel.
I hope my fears overblown. But if you were in charge of securing these properties, how would you address the threat?