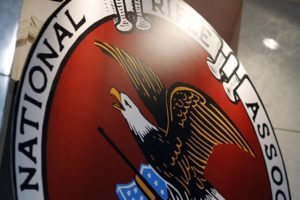 Over the last 24 hours, I've been doing something I don't normally do: I've been debating the right of self-defense with gun-control advocates on social media. I don't normally do this because I find most gun-control arguments rather tiring. However, it's been interesting to note the assumption of guilt in the minds of a great number of gun control supporters, and the National Rifle Association in particular as the source of their wrath, as if the NRA itself gave somehow gave tips to the Las Vegas murderer on how to perform his horrible deed.
The NRA is not responsible for this, neither are its millions of members. I am not in favor an entire group responsible for actions of one man, because the minute you do such things, you lay down tracks for the boxcars headed east.
Why then do people see a need to scapegoat the NRA here? I can think of a number of reasons why:
A horrible act requires a horrible villain, and the villain we currently have on our hands just isn't horrible enough. It offends our sense of proportionality that such a crime could be done by one man, so we invent a supporting cast for his movie. For those on the political left, the NRA fits that bill quite nicely.
Someone or something could have prevented this, and the NRA allowed it to happen. This argument tends to focus on the use of the now-notorious "Bump Fire" stock, however, how the NRA could have prevented a product coming to market that was approved by Obama's ATF remains a mystery to me.
The NRA needs to stop getting in the way of "common sense" gun laws that might somehow have prevented this from happening. What laws in particular might have stopped a quiet accountant with no history of mental illness, no significant run-ins with the law, and no track record of violence from doing such a thing are left unspoken in this argument.
NRA members are a powerful political force, and Trump appealed to gun owners early on in his campaign, to good effect. To my friends on the left, I ask you, when your boogeyman behind the evil in the world just happens to be a big supporter of your political opponents, are you really worried about changing the world, or is scoring political points the ultimate goal here? If it's changing the world and making it a safer place, I share those goals, as does every single NRA member, and we also share a desire not to be labeled accessories to a crime we had nothing to do with.