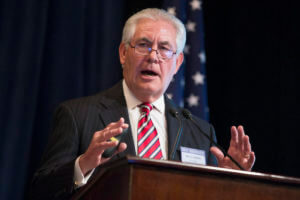 From Politico:
President Donald Trump said Tuesday he is removing Rex Tillerson as secretary of state after a rocky tenure, nominating CIA Director Mike Pompeo in his place.

"Mike Pompeo, Director of the CIA, will become our new Secretary of State. He will do a fantastic job!" Trump tweeted Tuesday. "Thank you to Rex Tillerson for his service! Gina Haspel will become the new Director of the CIA, and the first woman so chosen. Congratulations to all!"

A senior White House official said Trump wanted Tillerson out so he could have his new team in place before upcoming talks with North Korea. The president agreed last week to sit down with North Korean leader Kim Jong Un. Tillerson said at a press conference Monday that the U.S. had not yet heard back from North Korea, but he made no mention of his own impending exit.

Tillerson has been embattled as Trump's chief diplomat almost from the moment his nomination was announced. The former Exxon-Mobil CEO was criticized for his perceived warm relationship with the Russian government and President Vladimir Putin, prompting an especially critical confirmation hearing in the Senate Foreign Relations Committee.