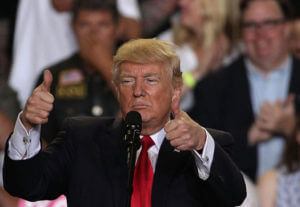 Honestly, what did we expect would happen when we elected a corrupt fascistic misogynistic xenophobic madman to the nation's highest office?
Well, for starters, we expected the electoral process itself to be subverted, of course. And look! It turns out that the Democratic Party's primary process was rigged, an undemocratic farce, a charade designed to string along enthusiastic Bernie Sanders supporters while the outcome – a Clinton nomination – was guaranteed by the fact that Mrs. Clinton herself was secretly bankrolling the DNC party apparatus and calling all the shots.
We expected sinister collusion with hostile foreign powers, naturally. And look! It turns out that the Democratic Party, under the control of candidate Clinton, was paying foreign spies to cook up salacious (albeit fictitious) dirt on the opposition candidate, and then, with the help of a surprisingly helpful FBI director, foisting the results on Congress as credible intelligence without mentioning the DNC connection.
We expected a war against women. And look! It turns out that the only thing the hard-left, Democratic Party-supporting movers and shakers of Hollywood enjoy more than bashing Trump 24/7 is, wait for it, turning women and children into sex objects – or discretely looking the other way to avoid seeing what everyone knew was going on.
We expected fascistic mobs rioting in the streets. And look! Fascistic mobs riot in the streets, protesting the inauguration of a duly elected President, protesting the public appearance of people they don't like.
We expected the suppression of free speech. And look! Scholars are silenced on our university campuses by students and faculty fearful of ideas that don't comport with their hard-left preconceptions.
Okay, some things didn't go as expected. We were told we'd have a lawless executive, but it turns out that this supposedly authoritarian President accepts the ruling of the courts, tells Congress to do the legislating, and generally keeps his executive actions confined to reversing past executive actions, avoiding the overreach to which we'd grown accustomed.
And, okay, the stock market is at record highs, unemployment is low, consumer confidence is up, energy production too, and economic growth is over three percent. Excellent defense staffing choices and a string of quite good Presidential speeches to international audiences have allayed concerns that World War III is one mad tweet away.
We don't have a wall. We haven't repealed Obamacare. We haven't passed any of the major legislation promised by the new President – this despite a slim Congressional majority. A more ambitious President would grab his phone and his pen and just make it happen, Constitution be damned. But the would-be dictator in the Oval Office, in a refreshing break with practices of the past few years, seems content to color within the lines of his executive authority and leave the lawmaking to the legislators.
Oh, we did expect tweets. And, honestly, they really are as bad as we feared. But, strangely, thus far the tweeting seems to be the worst thing about this administration. The rest is not too bad — and certainly not what I expected.