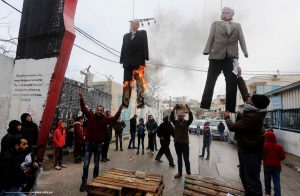 Did you know that members of Fatah attacked a US delegation from the Jerusalem consulate last week? This is Caroline Glick's description of the attack:
On Tuesday a delegation of diplomats from the US Consulate in Jerusalem came to Bethlehem to participate in a meeting of the local chamber of commerce. When they arrived in the city, Fatah members attacked them. Their vehicles with diplomatic license plates were pelted with tomatoes and eggs by a mob of protesters calling out anti-American slogans.

After the Americans entered the hall where the meeting was scheduled to take place, some of the rioters barged in. They held placards condemning America and they shouted, "Americans Out!"
The American officials left and the rioters again attacked their vehicles.
Near Bethlehem, a mock "tribunal" was held for Pence and Trump. Found guilty, their effigies were burned.
In other countries, this sort of behavior might be shrugged off. After all, Americans are despised in other countries and demonstrations are made against our country and our officials. But these demonstrations took place in a country ruled by Mahmoud Abbas, the man who has governed for 14 years (instead of the four for which he was elected.) At the very least, police could have been escorting the US diplomatic vehicles, or stationed at the doors of the meeting to protect those attending. No protection was provided.
After the U.S. threatened to withhold funding to the UN, and at Davos Trump threatened to cut off all US aid to the Palestinians, Abbas called for Trump's "house to be destroyed." You can be sure that this was an official call against Americans.
In addition, Jason Greenblatt is playing off Trump's threats (I believe) to cut off funds. As often happens diplomatically with other senior officials, Greenblatt disagrees with Trump's statement that Trump wouldn't be overly concerned to see the peace process disappear. In contrast, Greenblatt has said that control of Jerusalem is still up for negotiation and that the US is still committed to the peace process.
Whether this difference in perspectives between Trump and Greenblatt is misdirection or confusing foreign policy, no one has been able to say.
Finally, the Palestinians may experience another blow to their plans for peace:
. . . reports that the administration is considering holding the UN's Palestinian refugee agency UNRWA to the same definition of "refugee" as the Office of the UN High Commissioner for Refugees means another Palestinian high card is in danger. If Trump carries out his threat, then the only Palestinians who will be eligible for refugee status will be the 20,000 Palestinians who left Israel between 1947 and 1949. In one fell swoop, Trump would wipe out the Palestinian demand to destroy Israel through mass immigration of five million foreign-born Arabs to its territory – in the framework of peace.
My hope is that Donald Trump is seeing the writing on the wall: he knows that pursuing a peace process between the Palestinians and Israel is a waste of our energy; that the Palestinians will not compromise on any important aspect of a peace agreement; that they will never agree to Israel's right to exist; and they will never be an ally of our country.
It's time to break off our relationship with the Palestinians.