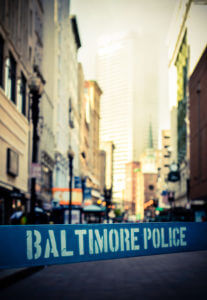 Since the Freddie Gray situation, even if you call the police and give a description, they can't touch the criminals, the business owner said. They know they're untouchable. That's the key. He asked not to be identified, saying his life had already been threatened. "This is a killing field," he said.
Baltimore is in trouble, serious trouble. The relationship between citizens and the police department is at a low point. To make matters worse, the relationship between city hall and the police department is no better. Officers may have begun to vote with their feet.
This year, it is on track to beat both records and surpass all other big U.S. cities. The 124 slayings in Baltimore, with a population of 614,000, bring the homicide rate to 20.2 per 100,000 residents. Comparatively, Washington, with 681,000 people, has had 41 homicides so far this year, for a rate of 6.

Meanwhile, Baltimore's police force has shrunk in the past several years, from 2,900 officers to 2,700. Washington has 3,800.
Trying to replace 200 officers is a difficult process. The testing process and then academy time, as well the on-the-job training can take up to a year. Some of the loss may be due to early retirement, but the question becomes, was early retirement a viable option for some officers due to the Freddy Gray debacle? Some officers may have left to take positions with other police agencies. The real answer will come by looking at the number of the potential applicants that may decide not to test for a position with the Baltimore Police Department.
The Ferguson Effect — or in Baltimore's case, the Freddy Gray Effect — regardless of what the talking heads may say, is real. Beat cops on the lowest rung of the policing ladder know that to survive the machinations of the relationship between a hostile city hall, hostile admin cops at the top rung of the ladder, and a hostile State's Attorney's office will have to become call takers. Proactive policing could cost you your job, and even your liberty.
Your competent officers and supervisors will start to leave first. They know that they can work anywhere in the state, or country for that matter. Your lazy and mediocre officers and supervisors will stay; call-taking suits them. The Department of Justice, the State's Attorney's office, city hall, and the street gangs in Baltimore got the politicized police department they wanted, the good and decent citizens of Baltimore that are caught in the crossfire did not get the one they need.