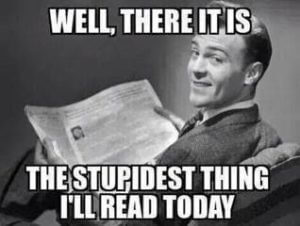 Dang, I thought this was easily the stupidest story I was going to read today: A feminist rabbi just wrote a book about how gender inequality and "rape culture" came about because God slut-shamed Eve in the Garden of Eden, or something.
I want you to think about this. Here is a young, beautiful, intelligent, naked woman living in a state of Grace. She's hungry, so she does the most natural thing in the world and eats a piece of fruit. For following her instincts, trusting herself, and nourishing her body, she is punished. Her punishment? She will never again feel safe in her nakedness. She will never again love her body. She will never again know her body as a place of sacred sovereignty….

The founding myth of Judeo-Christian religion, the story of Eve, granted generations of men permission to violate women. It teaches us that women are liars and sinners. Even if "She" is telling the truth, she deserved it. God told her not to eat that apple, or wear that skirt, or go out after dark, or be pretty, or desirous, or in that bar or on that street or in that car or born a girl.
"Man oh man," thought I. (Or, "People Oh People," in Approved Canadian). "That is surely the most idiotic thing I am going to read today."
It was not. Because some Social Justice Warriors on Airstrip One are offended by the safety instructions on shopping carts.
They say that safety instructions on the handles of the carts only depict women with children, using a silhouette of a figure in a dress….

Samantha Rennie, executive director at equality group the Rosa UK Fund for Women and Girls, said last night: 'The idea that shopping trolleys should be gendered in any way seems ridiculous.

'It's a seemingly small factor that plays a role in reinforcing stereotypical ideas of the woman being responsible for the weekly food shop.'

And Matt O'Connor, of campaign group Fathers4Justice, said: 'Tesco needs to stop this gender apartheid.'
Maybe it wasn't quite as stupid as the first thing; or maybe it was worse. I don't know. Does it matter?