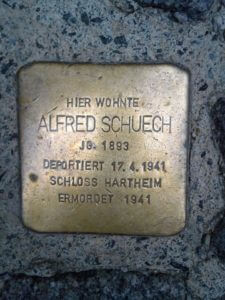 I remember the day I suddenly stumbled across it. And the only reason I stumbled across it is because I had given up cars. For a month I had given up cars. Better put, cars had given up on me. I was doing some research and respite in Salzburg, Austria last March and I had leased an apartment on a little medieval street called Steingasse. And believe me, even the infinitely more compact European vehicles I might have rented could not have navigated this quirky, cobbled path. I once did battle with a rented RAV4 (a stick-shift, @susanquinn!) in Scotland for two weeks, and suffice it to say, it did not end well. (Sheep have the right of way in Scotland. Every time.)
I had learned my lesson. So I gave up cars and chose to walk. Everywhere. And that's when I stumbled across it. One morning as I was on my way to buy my customary kaffee, I saw something I'd never seen before, even though I must have walked by it dozens of times. It was a small brass plaque carefully set into the uneven stones at the end of my street. I had to use the translator app on my phone, but this is what the plaque said: "Here lived Alfred Schuech. Born 1893. Deported April 17, 1941 to Schloss Hartheim. Murdered 1941."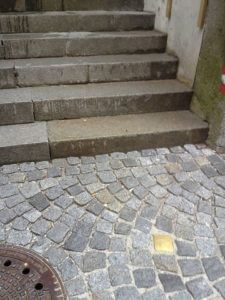 Schloss Hartheim is a castle in upper Austria that was converted into one of the Nazi extermination centers. Between 1940 and 1944, over 18,000 physically and mentally disabled people were killed by gassing and lethal injection as part of the T-4 Euthanasia Program. So it appeared that Alfred was a physically or mentally disabled 48-year-old man who lived at No. 7 Steingasse and was deported and exterminated by the Third Reich in 1941. I had no other information than that. But a quick Web search filled in the missing pieces. Alfred's plaque is part of a nationwide Holocaust memorial that began in Germany in 1996. It is known as "Stolperstein," which means, literally, "stumbling stones."
Small brass plaques are placed outside the last place of residence of known Holocaust victims. Alfred's plaque was placed among the stones in front of No.7 Steingasse. There are now over 61,000 plaques in more than 1,200 locations in Europe. The program dictates that virtually no publicity should accompany the placement and location of the plaques. They are meant to be discovered by chance. They are, indeed, stumbling stones (we'd call them stumbling blocks) — causing people to stop in their busy lives and look down and take notice. That's how they were designed to work. That's exactly what happened to me.
In the days that followed, I saw more plaques. I had never seen them before, but now my eyes went immediately to them. Olga Sachsel and Heinrich Weber. One killed at a prison, the other sent to Dachau and then exterminated at Hartheim. A 58-year-old mother and (I assume) her 27-year-old daughter, Regina and Dorothera Grindlinger. Killed just three days apart at the Maly Trostinec Concentration Camp.
And I wondered how many other stumbling stone plaques I had passed by and never seen during my years of traveling. In Amsterdam or Brussels. Or Paris. Or Vienna. I am sure I did pass them by. I was busy. I had places to go, things to see, food to sample, history to investigate. Sometimes I had rented a car and simply driven right by. Other times I had taken a taxi or a bus or a metro. But whatever the mode of transit, I was always looking somewhere else.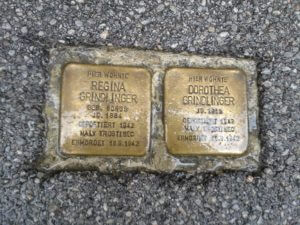 Who's to say why I saw the little brass plaques that day. Perhaps it was because I knew I would be leaving Austria soon and I was reflective. Perhaps it was because I had taken the morning train to Munich and walked the emotional grounds of Dachau only days before. Perhaps it was simply because it was raining and I took the time to be careful and look where I was walking.
But I did see them. I wasn't looking for them, but I discovered them by chance. Olga and Heinrich; Regina and Dorothea; and Alfred. And I will never forget them.
And tonight as I write this, I find myself thinking once again – I need to stop driving everywhere and voluntarily give up my car. I need to walk more. I need to stop and look where I'm walking.
What I really need is many more such stumbling stones in my life.