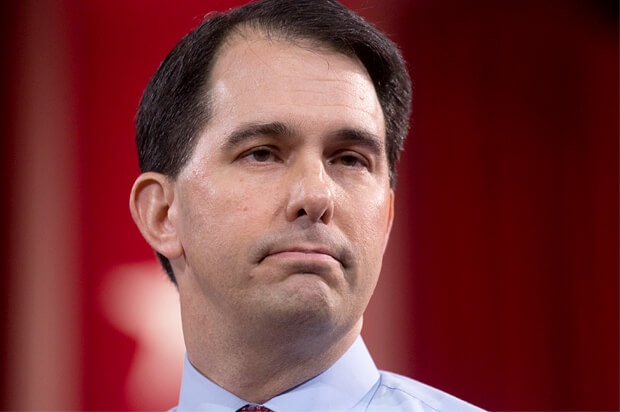 Despite what The Donald and Jeb! and Carly said in last week's debate, Scott Walker's closing statement tackled an even larger elephant in the room: "I'm a guy with a wife, two kids, and a Harley. One article called me 'aggressively normal.'" The Wisconsin Governor's detractors aren't as euphemistic. Let's face it: Scott Walker is B-O-R-I-N-G.
He brags about the bargain rack at Kohl's. He spends his Sunday mornings at church and his Sunday afternoons watching the Packers. He live-tweets his haircuts and getting the oil changed in his Saturn. His only unhealthy obsession seems to be an addiction to hot ham and rolls after church. (He really loves hot ham.)
In a news cycle filled with burning cities, beheaded Christians, and transgendered Kardashians, how does a dull Midwesterner stand out? He showed how Thursday night. To paraphrase a reporter talking about Barry Goldwater's presidential strategy, "my God, Walker is running as Walker!"
This isn't the first time a politician listed "aggressively normal" as a selling point. In 1920, America's political climate was in even greater tumult than today's. President Wilson had fundamentally transformed the federal government into an oppressive entity that regularly jailed detractors, instituted a then-unimaginable level of regulation, and created the first income tax. Our battered soldiers returned from the charnel houses of Europe to find an executive branch pushing for an even more robust internationalism. By the time the president was incapacitated by stroke (a fact hidden for months), most Americans had had enough.
In a field of flashy candidates, a dull Midwesterner caught the zeitgeist by calling for a "Return to Normalcy":
"America's present need is not heroics, but healing; not nostrums, but normalcy; not revolution, but restoration; not agitation, but adjustment; not surgery, but serenity; not the dramatic, but the dispassionate; not experiment, but equipoise; not submergence in internationality, but sustainment in triumphant nationality."
Ohio Senator Warren G. Harding's promise of a boring four years delivered a landslide victory from an exhausted electorate. After dying in office he was replaced by our dullest president, Calvin Coolidge, who was succeeded by a third steady hand, Herbert Hoover.
In many ways Walker is the heir to Silent Cal; a leader focused on concrete results with minimal rhetoric and even less drama. He spent his time as a county executive and governor methodically rolling back the worst excesses of government as the world flailed around him. The unwashed progressives in Madison ranted and raved, but Walker remained the eye of the storm. Unions threatened his family, judges harassed his friends, and MSNBC's Ed Schultz held a year-long St. Vitus' dance, while the governor stretched in his church pew, dreaming about hot ham.
As an ideologue, I'm more attracted to conservatarian activism. If a candidate promised to cut government in half, I would think it was merely a good start. Forget balancing the budget, I want spending well below incoming revenues for the next decade. And if the next government shutdown doesn't last a year, don't bother. So, on paper, a "return to normalcy" shouldn't be that appealing.
But Walker appeals to an exhaustion with politics in general. Like most small-government enthusiasts, I don't want to think about Washington, D.C. every minute of every day. My ideal politician is someone I only hear about at election time and maybe in January when he submits his State of the Union address in writing. I would much rather focus my time on family, business, and art, than waste Christmas Eve watching C-SPAN's live congressional feed. I long for the days when supermarket magazine racks featured celebrity weight loss tips instead of FLOTUS lecturing me about kale.
If we're frustrated with politics now, we'll be desperate for relief by November 2016. If Scott Walker is able to capitalize on that mood — starting with a definition of what "normal" even means anymore — the White House chef might need to stock up on hot ham and rolls.