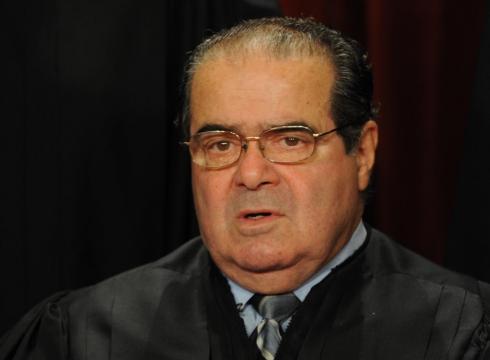 Justice Antonin Scalia's dissent in Lawrence v. Texas was prescient in its analysis of where we were headed in a post-Lawrence world. Likewise, the reaction to last Friday's Obergefell decision has included warnings from both the dissenters and numerous commentators that the fallout from the case could mean serious legal challenges to religious institutions and/or the necessary discovery of a constitutional right to polygamy or prostitution.
Naturally, progressives scoff (at least on the record) at such suggestions, even as we begin to see a few commentaries pop-up that make those very arguments.
To most on the Left, these are the desperate ramblings of scare-mongers who are trying to cling to the most absurd arguments still available to them in this rapidly changing world. "Pay these claims no mind," they say. "This is just slippery-slope nonsense." They usually then tack on a strawman about how conservatives think people will start marrying their dogs or some such thing.
But let's go back to 2003. Scalia wrote then, in part:
One of the benefits of leaving regulation of this matter to the people rather than to the courts is that the people, unlike judges, need not carry things to their logical conclusion. The people may feel that their disapprobation of homosexual conduct is strong enough to disallow homosexual marriage, but not strong enough to criminalize private homosexual acts–and may legislate accordingly. The Court today pretends that it possesses a similar freedom of action, so that that we need not fear judicial imposition of homosexual marriage, as has recently occurred in Canada (in a decision that the Canadian Government has chosen not to appeal).

At the end of its opinion–after having laid waste the foundations of our rational-basis jurisprudence–the Court says that the present case "does not involve whether the government must give formal recognition to any relationship that homosexual persons seek to enter."

Do not believe it.
He continued:
More illuminating than this bald, unreasoned disclaimer is the progression of thought displayed by an earlier passage in the Court's opinion, which notes the constitutional protections afforded to "personal decisions relating to marriage, procreation, contraception, family relationships, child rearing, and education," and then declares that "[p]ersons in a homosexual relationship may seek autonomy for these purposes, just as heterosexual persons do." (emphasis added). 

Today's opinion dismantles the structure of constitutional law that has permitted a distinction to be made between heterosexual and homosexual unions, insofar as formal recognition in marriage is concerned. If moral disapprobation of homosexual conduct is "no legitimate state interest" for purposes of proscribing that conduct; and if, as the Court coos (casting aside all pretense of neutrality), "[w]hen sexuality finds overt expression in intimate conduct with another person, the conduct can be but one element in a personal bond that is more enduring,"; what justification could there possibly be for denying the benefits of marriage to homosexual couples exercising "[t]he liberty protected by the Constitution?" Surely not the encouragement of procreation, since the sterile and the elderly are allowed to marry.

This case "does not involve" the issue of homosexual marriage only if one entertains the belief that principle and logic have nothing to do with the decisions of this Court. Many will hope that, as the Court comfortingly assures us, this is so.
Citations omitted. I encourage anyone with even a passing interest in the subject matter to read the whole thing, penned a dozen years before Obergefell.
I bring this up because it's important to remember that the people celebrating Lawrence in 2003 were also ridiculing Scalia for his "panicked" prediction of where the law was headed. For example, Maureen Dowd mocked Scalia in the New York Times with the expected measure of derision, writing that "The stegosaurus Scalia roared that the court had 'taken sides in the culture war.' Conservatives shrieked the door was open to everything from lap dancing to gay marriage." As an aside, Dowd's keen legal mind described Lawrence thusly: "The court [sic] issued a bracing 6-to-3 decision declaring it illegitimate to punish people for who they are."
How ridiculous Scalia was! He was certainly worthy of being called "homophobic," "Sister Scalia," and a "nattering nabob of negativity," among other insults Dowd hurled to show her distaste for Scalia's wild theories about the law.
By July, the Times had already shifted slightly. Beginning the next phase of the long road that led us to where we are today, op/eds and letters began appearing that said, in essence, "Scalia may be evil and nuts… but, just hear me out on this one… suppose we did have gay marriage. What's the big deal?"
In fact, that's exactly what Natalie Angier said on July 8 of that year, in an article that was actually about a scientific study on human mate selection. "Suppose that dissenting Justice Antonin Scalia was right when he fulminated recently that, by overturning the Texas antisodomy law, the Supreme Court was paving the way for 'same-sex marriage.' What's the big deal about gay nuptials, besides the fact that Canada got there first?"
It seems quaint now that the Times felt the need to put quotes around "'same-sex marriage.'" The more interesting thing is that the study discussed in the article included a 100% heterosexual sample, "for reasons of analytic simplicity," Angier tells us. And yet, she shoehorned an almost entirely unrelated matter in to this piece that was an approving, not-so-subtle statement of personal belief about gay marriage. So it went.
Justice Scalia will never get the apologies he deserves from the scores of critics who were either too short-sighted to appreciate his vision, or too dishonest to admit they suspected he and the other dissenters were—and are—prescient.