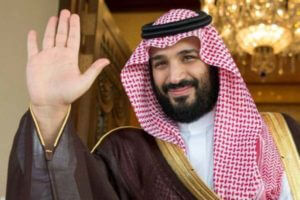 In a story as old as monarchy itself, Saudi King Salman is clearing the way for his chosen successor. The king's favorite son and closest advisor, Crown Prince Mohammed bin Salman, has been given more and more royal duties through which he has advanced many economic and policy reforms. He's trying to modernize the nation's nearly medieval mindset, opening it to freer markets, religious tolerance, and even to the state of Israel.
On Saturday, the king sacked the powerful head of the Saudi national guard, who had opposed Crown Prince Mohammed. Salman then created a powerful new anticorruption committee and placed the crown prince in charge. Within hours, the committee arrested a slew of his opponents, some of the wealthiest men in Saudi Arabia.
Eleven princes, four sitting ministers, and "tens" of former ministers were taken into custody, the most prominent of which is billionaire Prince al-Waleed bin Talal. Anyone with an even cursory understanding of history has seen this happen almost every time an aging monarch prepares to hand the crown to a successor.
But, the DC/NY press corps has identified the real story: it's all about Trump.
Big…One of the world's richest men, a vocal Trump critic, and member of the Saudi Royal family has been arrested https://t.co/91kGtssIkJ

— Yashar Ali ? (@yashar) November 4, 2017
Since Trump took office, consolidation of power by leaders in China, Turkey and Saudi Arabia.

— Kate Brannen (@K8brannen) November 5, 2017
Just to throw an extra frisson of speculation about Saudi Arabia, Jared Kushner did go there late last month. https://t.co/HRWgUpv5iS

— Daniel W. Drezner (@dandrezner) November 4, 2017
The conspiracies are taking over Twitter, labeling it the "Saudi coup":
Kushner just got back from secret Saudi trip
Trump tweets about Saudi oil co&NYSE deal
Then there is some kind of coup ?

— OppenheimersZombie (@Corpusmentis0) November 4, 2017
timing is ominous. kushner is in Saudi, one of Trump's tweets is about Saudi, then a possible coup involving well-known billionaire?

— maria garcia (@tulipsmg) November 4, 2017
Hmmmmmm ……#SaudiCoup https://t.co/QEGMCqvzuk

— buki. (@BukiWilliams) November 5, 2017
First off, it's not a coup when a king eliminates his enemies. That's how the treacherous world of court politics has always worked. Second, major Saudi political developments are usually about … Saudi politics.
American journalists love to tie events halfway around the world to whatever debates are happening locally. This provincial mentality is a big reason why the US news media is so awful at covering international news.