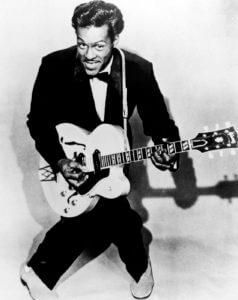 Rock and roll legend Chuck Berry has died at age 90. Police found him unresponsive in his St. Charles County, MO home Saturday and were unable to revive him. His work, however, will live on:
The rock legend had announced in October, on his 90th birthday that he was releasing a new album … In a statement, Berry dedicated the album to his wife of 68 years, Themetta Berry, whom he refers to by her nickname, "Toddy."

"My darlin' I'm growing old! I've worked on this record for a long time. Now I can hang up my shoes!" he said.

It's a fitting way for the musician, best known for his unforgettable tunes including "Johnny B. Goode," "Maybellene," "Roll Over Beethoven," "Sweet Little Sixteen," "School Days," "Rock and Roll Music," "Back in the U.S.A." and "Memphis, Tennessee," to mark his birthday. With his catchy melodies, witty lyrics and trademark guitar riffs, Berry has had an immeasurable impact on rock music.

He directly influenced the early music of The Beatles, The Rolling Stones, The Beach Boys and The Kinks. Not surprisingly, Berry was among the first group of performers inducted into the Rock & Roll Hall of Fame in 1986.

Among his many other accolades, Berry received a Grammy Lifetime Achievement Award in 1984, was recognized at the Kennedy Center Honors in 2000 and was presented with Sweden's prestigious Polar Music Prize in 2014.
.