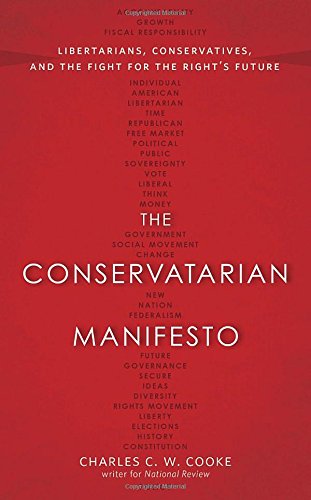 Last year, my good friend Will Patrick, here in Tallahassee, Florida, introduced me to the Ricochet podcasts. The first episode that caught my attention was one dedicated to President Reagan's first meeting with Gorbachev at Reykjavik. It was fascinating.
For more than 10 years, I have been involved in the conservative/liberty movement through my current work at The James Madison Institute (JMI) in Florida, and previously with the Intercollegiate Studies Institute (ISI). Between what I read and the many speakers I get to meet and hear from in person and at conferences, I felt like I had a great grasp on all the top scholars and thinkers in the movement. However, the Ricochet podcast has served to introduce me to so many more, including people like Avik Roy and Charles C.W. Cooke. During my many travels visiting JMI's supporters around the state of Florida, I listen to the podcast almost religiously and find it quite entertaining and thoughtful. [Editor's Note: Want to become a member of Ricochet and get a free month on us? Join today and use the coupon code APRIL for your discount.]
After hearing Charlie Cooke on the Ricochet podcast several times, I migrated over to his Mad Dogs & Englishmen podcast. And I recently read his fascinating new book, The Conservatarian Manifesto (of which I will soon post a review).
JMI and National Review also recently formed a new partnership and we were privileged to have Charlie speak at three of our events this past week in Naples, Tampa, and Orlando. I have come to the conclusion that Charlie and his "conservatarian" philosophy (one I share) is basically a libertarian who has an appreciation for history, tradition, and culture (read: reality). Too many libertarians do not have this appreciation; and perhaps too many conservatives try to use the power of government to achieve ends they'd like to see. I think Charlie strikes that middle ground for those of us who feel libertarian when we're around conservatives and conservative when we're around libertarians.
The thoughtfulness that comes across in Charlie's book and his podcast — and that is shared by all the hosts and (most of) the guests on the Ricochet podcast, was true in person as well. He spent a great deal of time speaking and conversing with attendees after our events. And we enjoyed the long and deep conversations we had with him over dinner and drinks during our little tour of Southwest and Central Florida.
I have also been pleased to hear one of my neighbors here in Tallahassee, Rick Wilson, on the Ricochet podcast. I have gotten to know Rick here in Tallahassee — and he's everyone's favorite on Twitter — but it's great to hear his banter on the air as well. Last year, through another organization I'm involved with, I also had the opportunity to meet Troy Senik and learn he was the Editor-in-Chief of Ricochet!
This is really an incredible community of scholars, writers, thinkers, and doers. And overall I think Charlie Cooke's "conservatarian" philosophy may be the "glue" to hold together our community of freedom lovers. With his insight, writing style, historical knowledge, and political pragmatism, I think he has the opportunity to be the William F. Buckley, Jr. of our times. Yes, he's only 30 years old, but so was Buckley when he founded National Review in 1955. The great thing about Ricochet is seeing all the up-and-coming young writers and a community that appreciates new thinking while holding fast to timeless principles.
I became a member of Ricochet several months ago, but this is my first post. I hope to contribute more, but I want to say thank you to all of you who are part of this community and especially to Troy, Peter, James, and Rob.