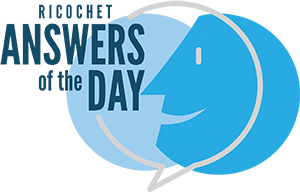 This morning, we posed a question about the news, now we're posting the best comments. Join the conversation!
The Question of the Day was: Will Congress pass DACA as it was under Obama, pass some form of DACA-lite, or pass nothing at all? From the comments, here are the Answers of the Day…
First from Spin:

The following three scenarios are each just as likely to occur as any others:

Total gridlock. Democrats call Republicans racists for not passing exactly what the Democrats want. Headlines read: Republican Party in Disarray as Trump's Deal with Pelosi Goes Down the Drain.
Some form similar to Obama's formula is passed. Immigration hawks within the Republican Party go nuts and blame it all on Paul Ryan and Marco Rubio. Democrats claim credit.
The zombies finally come, and me without enough ammo! (PS, this is not a veiled comparison of Mexican immigrants to zombies, I just like to refer to zombies because it is easier than coming up with a rational thought.)

Bring me a taco!
Best guess on how this plays out:

Republican squishes want to pass something like DACA. Trump wants to be seen as "having a heart," but also wants a wall. Republicans will try to trade DACA or something like DACA for border wall funding.

Dems have no incentive to cooperate, and Republicans are incompetent. The deal will fail.

Trump, at the end of the six-month window, won't have the "heart" to end the program. He'll keep it going for another "temporary" window of time, which will eventually extend through the 2018 election.

Republicans lose the House in 2018 midterms. The lame-duck Congress will pass DACA with squishy R support in the Senate and soon-to-be-unemployed R support in the House. Trump will sign it.

If R's hold the House in 2018, they'll get a second shot at some kind of DACA-for-wall deal in 2019.

(Trump would sign the lame-duck DACA because it'll be attached to some debt ceiling or government funding "must-pass" measure.)
Congress will pass the worst possible thing.

It will not satisfy the dreamers' advocates, insofar as it will not immediately transform the US into a borderless social-democratic welfare state.

It will not satisfy the Chamber of Commerce cheap labour types, insofar as it will not legalize indentured servitude.

It will not satisfy the libertarian open-borders types, insofar as it will not immediately abolish the Federal government.

It will not satisfy the economically or politically oppressed of Latin America, because the siren call of a life in the shadows in the US will continue to distort their economies and communities.

It will not satisfy the economic nationalists, because if there's one thing everyone in Washington can agree on, it's that the democratically expressed will of the ordinary people must be ruthlessly crushed.

It will satisfy the Democrats, because they'll be able to keep their ethnic constituents on their urban plantations, make common cause with the GOPe wets, and preen in their white, coastal, upper-middle class smugness.
I think DACA is another example of how "Compassion" leads to bad public policy, and bad law.

For example, DACA was Obama's expression of "Compassion" to the "Children" (ie persons under 30!) who are illegal immigrants. However this act is penalizing to the legal immigrants, who have taken years, spent thousands of dollars (I presume) on lawyers and filed acres of paper work to become an immigrants to the United States.

To conflate this issue with the recent 9/11 remembrances, I recall that congressmen and senators, all being outraged in 2002, when it was discovered the hijackers had overstayed visas, and had a speeding ticket. They wanted to know why these guys where not detained and deported? For a speeding ticket. Now many of these same people want to protect drunk drivers, thieves and drug dealers from deportation… Its just another example of democrat (mostly) psychological/philosophical whiplash on a issue. I bet they'll deny ever wanting an overstayed visa holder to be deported for a speeding ticket. (Too bad nobody in the media is fair or objective enough to ask – or if they are, they'll never get the interview to ask)

Another example of "Compassion" leading to bad policy, is housing. There are plenty of policies (from local, state as well as federal) to support the price of real estate. Which is good for middle class home owners, living in a property bubble. This however injures the lower class, and those forming a new household, as they can't afford a home. The ownership of a home, traditionally has been the way most people have built family wealth. This excludes less affluent people from this avenue of wealth generation, and slows the upward mobility of the working classes.

A third example of "Compassion" is the minimum wage debate. There is no special nobility in poverty, raising the mandatory wages for the poor will cause more unemployment, more part time and split shift work, and will actually reduce the income (on average) of the working poor. (while driving many small business out of business) The media should do interviews with the man in the street – what should the minimum wage be? and would you pay someone that wage to mow your lawn? or Hang Christmas lights? or wash your car?

The compassion of public policy is a two edged sword, which often injures just as many as helps. The problem is that those who are injured dont fully realize it or dont have the political influence to change it.