I awoke in the middle of the night, and as is my bad habit, I checked my email and found this with a note from Michael Ramirez: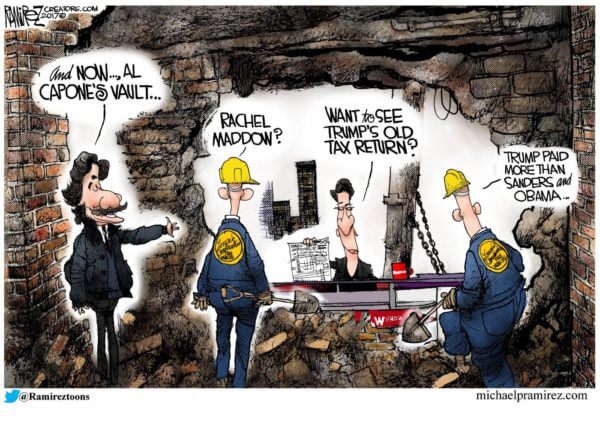 Michael usually sends both the fine line drawing and a color version at the same time. I then make a page and write up the SEO, titles, find or write some content, then publish the color cartoon to a page that can be shared on social networks. The artwork becomes part of an ever growing library that is indexed by date and searchable by keywords on the website.
But today was special. This was about [the comedian] Rachel Maddow, who kept liberals waiting all evening for a big reveal only to offer a dud of a climax. Michael was asking me to wait for the color version, which usually takes a few hours of hard work on his part to complete. At 5 AM, I put the page together, which in retrospect, might not have been the best plan, and prepared fans by posting on Facebook that a big reveal was coming later in the morning, and they might want to share it with Rachel, lol.