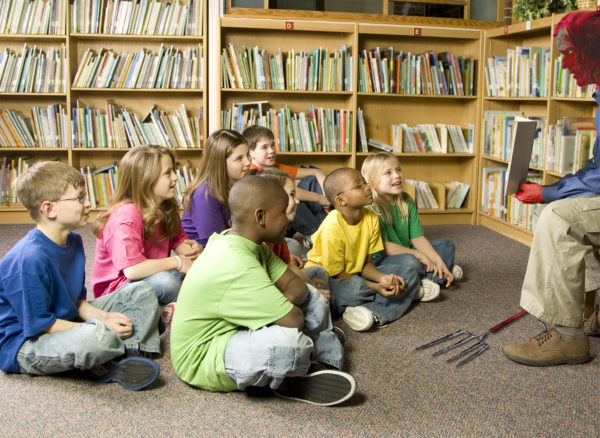 Sacramento, CA – Local public libraries throughout California are thrilled to announce that Satan, otherwise known as the Prince of Darkness, Lord of the Underworld, Lucifer, and many other fun names, has begun to read to preschoolers and other young children to show them how to be more inclusive and accepting of alternative lifestyles. Previous storytime sessions that featured drag queens, dressed as servants or brides of Satan, met with some controversy.
As one State Department of Education official in Sacramento related, "Well, we did have a few complaints. Many parents told us that they really wanted a more authoritative figure to enlighten their children, so our department reached out to several state legislators who had already had direct contact with the Lord of the Underworld for various initiatives or for campaign support and were able to arrange a meeting. Happily, Satan was quite excited about the idea and was quick to agree. He even waived any monetary fees for his services though he did imply that other types of payments might be required. We believe the state's general fund can cover whatever he has in mind."
The program seems to have gone off without a hitch with the exception of one incident in Reseda when a librarian insisted on seeing Satan's credentials to verify that he wasn't an imposter. Unfortunately, the librarian was instantly levitated and then impaled upon a large iron pronged fork that the Prince of Darkness occasionally carries with him for show-and-tell purposes. A few eyewitnesses related that Satan then said, with discernable irritation in his resonant deep, guttural voice, "There you go. Those are my credentials."
A memorial service for the librarian is scheduled for Wednesday of next week.
Asked for a response to the program's announcement one enthusiastic Marin County couple stated, "We are so excited about this program. It's important for our daughters to learn that they have options on how they can live their lives and develop the skillsets to deal with bigoted, sexist, homophobic, transphobic, or otherwise rude comments as they grow up. We think Satan can offer some much-needed help in this area. He's clearly dealt with a lot of rude people and knows what it's like to be ostracized."
The program's announcement states that children can be dropped off at their local library when Satan conducts his storytime sessions and parents need not attend. Librarians and several lesser demons from various deeper levels of Hell will be on hand to serve refreshments and help the children engage in many fun games and role-playing activities.
For more information on the program, contact your state legislator's office.