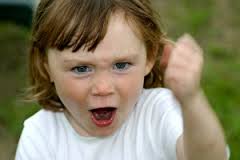 There was this guy who hated his brother. We're not sure why; usually there's more than one reason, or one reason leads to another that leads to another that may have little or nothing to do with the stated object. But anyway, hatred started with anger. Someone asked the guy, "Why are you angry?" He couldn't answer. The questioner went on, "If you do well, will you not be rewarded? But if you don't, evil is crouching at the door. It desires to have you. Shouldn't you rule over it?"
The questioner was God and the guy was Cain, the first murderer (Genesis 4:7). Killing his brother was the first crime of passion and anger was the first passion.
It's the first passion for all of us. We're born angry, or at least severely peeved: Why did you people yank me out of my safe, warm place? Why don't you feed me, hold me, reassure me? We're supposed to grow out of it, but growing takes a while. Anyone who's ever had small children knows how one little slight can set them off, and it feels so good to kick and scream they keep right on kicking and screaming until the little fire burns out. If you ask, "Why are you angry?" they couldn't tell you. Though some children are more volatile than others, all are vulnerable. In fact, rage comes upon a child so suddenly, so naturally, it must be part of old Cain: a simmering pot on our unbalanced will ready to boil over as soon as the heat is turned up I once heard a preacher say, speaking of a child in the throes of rage, "If he could, he'd kill you." Creepy. And probably true.
I've felt it myself — I used to bite down on my arm to keep from screaming, leaving red teeth marks that lasted for hours. It wasn't painful until after I did it. Anger is, in fact, the opposite of painful — it's a pleasure to give in, to stomp and scream and throw things. But of course, nobody can live on a perpetual fury high: you have to come down and then you just feel stupid.
But what if you don't have to feel stupid? What if you can stoke that fire for days, months, years? The words most often used for anger, especially in the Old Testament, indicate burning. They are often translated that way: "Moses' anger burned hot," in Exodus 32:19; The "anger of the Lord burned" in Joshua 7:1; Saul's "anger was greatly kindled" in I Samuel 11:6. Fires tend to get out of control, and that's why, as we grow up, we're supposed to keep a fire extinguisher handy, whether it's counting to 10 or dropping to our knees.
But in contemporary culture, anger is justified for its own sake, not necessarily as the motivation for righteous action. It's a virtue just to be angry. (Angry about the right things, of course. If you're angry about the wrong things you're a dangerous nutcase.) Individuals bring their personal grudges and slights to the protest rally and vindicate themselves by indignation. Every day, every hour, someone is publicly wishing a political figure dead. Ordinary citizens have begun to define themselves by what infuriates them.
Political rage has always been an undercurrent in America's history, sometimes breaking out on the surface (see Civil War, the), but it struck me hard during the election of 2008, when the fulminations of Rev. Jeremiah Wright became an issue. Here was a man who may have burned with natural — perhaps even righteous — anger earlier in his life but now found an interest, for whatever reason, in maintaining it artificially. It was rage without action — more like an emotional catharsis. Members of Trinity United Church of Christ did not boil out of the church every Sunday to wreak havoc in white neighborhoods. Instead, I presume, they went home to have dinner with the family watch a ball game, like most Americans.
Likewise the pale political bloggers who latch on to the worst conspiracy theories and vicious rumors: if America was as wretched as they appear to believe, why aren't they applying for citizenship to Canada? If the President is scheming to send gays to reeducation camps, forbid women to read, and sell our national sovereignty down the river, why isn't there a stampede for the borders? Because anger itself is their moral obligation and their virtue. They are "right to be angry" (Jonah 4:9) because the other side is evil. They don't have to actually do anything about it.
Until someone takes real action and fires real bullets that hit real targets. Then we're told to calm down and try to talk civilly to each other. Okay, fine; I've been doing that for a while now. And my left-wing Facebook friends have cut the rhetoric somewhat, though the muttering has already started. (One of them seems to find moral justification by reporting that, of the security detail who downed the assassin, one was black and one was a woman.)
God asks us, "Are you right to be angry?" Almost never, especially in a nation as blessed and prosperous (so far!) as ours. Anger is an invitation to the evil crouching at the door. But it still feels good, especially if you don't have much else to give your life meaning.