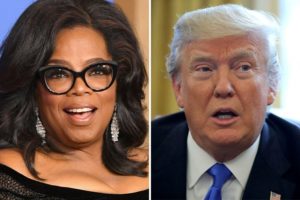 Consider the possibility that Oprah Winfrey may actually run for president. There are plenty of reasons why she shouldn't or wouldn't, but let me tell you why she might, and why the Right should be concerned. I want to thank Georgi Boorman for her article in The Federalist for inspiring me to explore the following: why we should be worried if Oprah runs for president.
First, Oprah has a huge fan base. They adore her. Unlike Barack Obama, people feel as if they know her, know what kind of person she is, and admire her integrity and directness. I have to admit that I do like and admire Oprah; after all, she overcame huge odds to become one of the most successful people in the world. And she's likeable and smart, too. Anyway, when people like a celebrity a lot, they will give credence to his or her ideas, and they especially like Oprah because she essentially says to her audience: you can do anything:
The highest honor on earth that you will ever have is the honor of being yourself. And your only job in the world is to figure out, that's what this movie is about … people think your job is to get up and go and raise money and take care of your family. That's an obligation that you have, but your only true job as a human being is to discover why you came, why you are here.

Every one of us has an internal guidance, a GPS, an intuition, a heart print, a heartsong that speaks to us. Your only job is to be able to listen and discern when it's speaking versus when your head and your personality is speaking. And if you follow that, you will be led to the highest good for you. Always.
Now before you start rolling your eyes, remember that people in our culture today want to be reassured, coddled and encouraged. They love the idea that success will come to them, that they just have to want it enough. Unfortunately in offering this advice, Oprah seriously underrates her own abilities to succeed, including discipline, drive and dedication. Those qualities are part of her make-up, and I think she assumes everyone else shares those same qualities and will make the most of them. But she's wrong.
So Oprah has developed a huge audience that has essentially deified her, that believe she is spiritually deep and knowing. If Oprah says a person can be successful, well, it must be the Truth.
Even now Oprah is showing up in the spotlight more often, although she has left television. I suspect she is testing the waters for a presidential run. Her motivation may actually be to serve "her people", i.e., fans (like a female Moses who will lead them to the Promised Land), so I think she's considering the role of president of the United States, even if she says she's not.
Two developments will be intersecting over the coming months, as Oprah becomes more visible and her ideas become even more mainstream. Slowly people will begin to realize that their personal success isn't just around the corner, as Oprah has predicted. But rather than question her ideas, they will assume that they have to wish harder for good outcomes. And over the next two years, when they realize their dreams still have not come through, they will look for someone to blame. And it won't be Oprah, whom they adore. It will be Trump, whom they've been conditioned to hate and blame for everything.
Meanwhile, the Left will find a way to persuade Oprah that she has a calling to run for president. Rather than emphasizing power, they will frame the position as an opportunity to serve, to humbly accept this duty to help the country and rescue it from Trump. They will de-emphasize Leftist ideology, and rather than talking in Leftist terms, they will speak in Utopian terms. They will say, yes, the country has become successful and Trump has been able to back laws that have helped people get by. But he hasn't helped them realize their dreams, the way Oprah would if she were in power. As the population nurses its own greed, narcissism, and apathy, Trump will be further demonized (if that's possible) and Oprah will be discussed in messianic terms. Her opponents will be reluctant to criticize her because they will be labeled racist. And of course, the mainstream media will be thrilled to have her run.
Once she is in office, the ideologues will work through her, manipulate and control her, and assure her that their Leftist ideas will support her Utopian dreams.
Does this sound crazy? That's because you are on the Right. But for people who are either on the Left or don't know what they are, who treasure their materialistic dreams, Oprah fits the bill.
I think we should be worried.