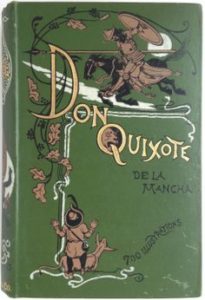 As far as genres go, the novel is a relatively young one. Poetry and drama stretch back to antiquity and beyond, but what is widely considered to be the first novel didn't arrive on the scene until the Renaissance was starting to draw to its close. This is Don Quixote, Miguel de Cervantes' monumental work in both the Spanish and English literary traditions.
Published around the same time that Shakespeare was writing his last plays in England, its importance is not due merely to chronology. You'll find no shortage of praise for the novel or insight about Cervantes' influence as the grandfather of the modern novel. Milan Kundera stated, "The novelist need answer to no one but Cervantes," and Lionel Trilling mused, "It can be said that all prose fiction is a variation on the theme of Don Quixote." One of these many themes is the nature of the relationship between fiction and reality, the limits between their likeness, and how we relate to the fiction we read. The novel is, at its core, a story about stories.
Don Quixote, né Alonso Quixano, is a character who wants to make himself into a character. So enamored of tales of noble knights and honor and quests, he decides to take this fiction and translate into the realm of his reality. Where the translation is rough, he bends and reinterprets the world around him to fit the preset narrative of the books in his library. Though a man nearing 50 in a Spain where knights and quests are relics of a distant past, he declares himself a knight-errant, Don Quixote of La Mancha, and leaves his home in search of quests and adventure. We the readers are in on the joke. Like other characters in the novel, we see reality for what it is. Dulcinea del Toboso, the Guinevere to Don Quixote's Lancelot, is just a Spanish country girl. Rocinante the noble steed is nothing more than an exhausted nag. Our knight-errant's shining armor is just an old, rusty suit he found in his house.
But Don Quixote either cannot or will not recognize the nature of the reality around him. Windmills are fearsome giants, inns are castles, their inhabitants are lords and ladies, prostitutes are princesses. Our knight gains his fame by pursuing his quests in spite of reality. Should anyone try to question him or tell him he is not a knight-errant, he will hear none of it and be on his way, secure in his fantasy. At the close of the first of the novel's two parts, his fiction-steeped imagination seems to have won out against the reality around him.
I think it is fair to say that most people think of the first part of the novel when they think of Don Quixote. The first part contains the humor and the episodes, like the encounter with the windmills, that most people associate with Cervantes' creation. Part II, on the other hand, offers a reversal of Don Quixote's seeming victory over reality.
When we encounter Don Quixote at the beginning of the second part, his fame from Part I has spread. In reality, there was a span of about 10 years between Cervantes' writing Parts I and II, in which time another author took up the character of Don Quixote in a kind of late-Renaissance/early-modern fan fiction. In the world of the novel, true tales about his exploits have spread thanks to the publication of Part I, but so have false tales based on the fraudulent sequel.
When Don Quixote encounters other characters, they already have a sense of who he is, some based on the true tales and others based on the falsehoods. Don Quixote has actually become a character, but the nature of this character is no longer fully under his control. Now, rather than try to live up to the characters he has revered in chivalric literature, he must live up to the character he himself has created but that others have appropriated.
This proves a much more difficult task; unlike the chivalric literature he had been using in Part I, Don Quixote's full story hasn't even been fully written yet. As Part I becomes the object of Part II and the story starts to fold in on itself, Don Quixote's fantasy also begins to fold in on itself. As a result, Part II is noticeably different in tone; Part I's levity remains, but it is tinged with something darker. We as readers can sense that Don Quixote's fantasy beginning to break down, and reality beginning to intrude. He begins to doubt himself and see things as other characters see them: inns are just inns, and peasant girls are not princesses.
His final defeat comes at the hands of another knight-errant, who is, in reality, a man from his hometown who hatched a plot to force Don Quixote out of his madness. As a condition of defeat, Don Quixote must not take up arms for one year, an agreement he is bound to honor by his chivalric code. Shortly after his return, he is taken to his bed with a fever. His companions fear the cause may be melancholy and despair at his defeat. As he is dying, he proclaims that his judgment and sanity are restored and that he now despises his books of chivalry. His time as a knight-errant he renounces as a period of madness. He dies not as Don Quixote, but as Alonso Quixano, reality having finally won the day.
The relationship between the fiction of a novel and the reality of the world around us is a perennial source of inspiration for authors, and in this thematic aspect, Don Quixote looms large in subsequent literature. For example, in Madame Bovary, Gustave Flaubert's heroine, Emma Bovary, similarly tries to make fiction into reality by fashioning herself after the heroines of Romantic literature, with even more disastrous consequences. T.S. Eliot's Prufrock laments that his life cannot be as charged with meaning compared to the great figures of literature.
In her essay, A Room of One's Own, a meditation on women and fiction and on writing fiction, Virginia Woolf describes novels and fiction more generally as being tied to reality, but lightly and at the four corners, like a spider's web. Fiction and reality bear a certain likeness to each other, but are not and cannot be exactly the same. Don Quixote shows the truth of this analogy by showing what can happen when we blur the distinctions between the two and try too hard to make them meet.