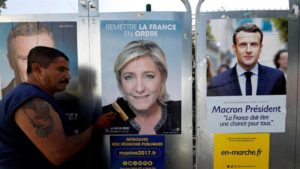 Update: I replaced the original text with a corrected version, including Matthew's own photos, which are much better. 
Matthew Clayfield's an Australian journalist I met when I lived in Istanbul. He does careful, serious reporting, and I've always thought it deserves more attention. But like most reporters, he's caught between the old business models for journalism (which are dead) and the new ones (which are at last struggling to be born, but we're still trying to figure out how to make them work). So chances are, you haven't yet read his work.
This week, he's been in Paris to cover the election. I haven't seen him yet. We exchanged a few messages on Facebook late last night and quickly agreed we'd both rather get some sleep than see each other, even if we're rarely on the same continent, no less in the same city.
He told me (before he crashed) that he hadn't been able to find an outlet to publish an article he'd just finished, one about an obviously interesting question: How do Muslims in Paris view this election? I read it and found myself terribly frustrated that he couldn't sell it. It shouldn't go to waste. He's not here on an expense account, and Australia isn't exactly a bus ride away.
Like I said, there are still a few kinks to work out with these new business models.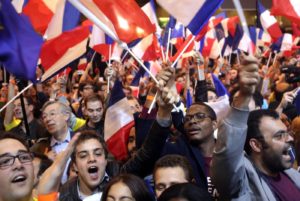 So I asked him if I could publish it here. He kindly agreed. And thus today, for a change, instead of hearing me ask you to fund my reporting, you'll hear me ask you to fund his. You can do that on Patreon.
I'd love to talk to him about how he's been, and the state of the world, and how Patreon's working for him so far. But I'm not sure we're ever going to get a chance to sit down and compare notes, because of course today we'll be writing our post-election pieces — and tomorrow we'll be pitching them to editors, and ideally, selling them, too.
(Some of you just did a double take.) "You'll be doing what, Claire?"
Good question. I'm going to let you in on a little trade secret. You may not realize this, but every piece you're going to read later today about how this election turned out is being written, right now, by journalists who don't yet know. Think about it: Because of the blackout — which I explained a bit in this comment — we won't even see exit polls until 8:00 p.m. (although Swiss and Belgian outlets will leak them earlier). Most regions will have reported by 10:00 p.m.; soon after that, the official results will be published on the French Interior Ministry website. Then — literally within minutes, as you'll see — hundreds of fully-formed, 1,200-word articles that tell you what the results mean will spring up like gazelles all over the international media. 
But of course (and this is obvious when you think about it), no one can write that fast. So we write them in advance. The way we do it is we write several pieces, reflecting the various plausible outcomes — in this case ranging from "Stunning upset," to "Macron wins but not by as much as expected," to "Macron wins in modern history's biggest landslide" — and we structure them so they can easily be updated or reworded depending how the details shake out. We leave space for the vox pop quotes that we'll scramble to find later tonight or in the morning, depending on the publisher's time zone. 
So I may not get to see Matthew on this trip at all, which would really be a shame. But at least you'll get an introduction to him.
*******************************************
In the courtyard of the Grand Mosque of Paris, where the emerald green tiles of its dormant fountains dry quickly after the afternoon rain, Dalil Boubakeur is helped by his assistant to the garden's sunken war memorial. He lays a wreath, the imams sing, and officials, ambassadors, and the rest of us, look on.
The president of the French Council of the Muslim Faith and current rector of France's first mosque is here to commemorate the 72nd anniversary of the end of the Second World War in Europe. He's a few days early, but hey: the actual anniversary coincides with France's most important election in a generation, if not since the war itself, so give the old man a break. He'll look upon you as an old friend, realise you don't speak any of his languages, and still give you a handshake or a hug. Anyway, tomorrow's Friday, and Friday prayers are of the utmost importance. In this day and age, in this age and climate, they should take precedence: it's a matter of principle.
See Matthew's video:
We retire to an antechamber where old men in old uniforms take their seats in front of plates of baklava. The oldest among them rises with assistance and takes his place behind the lectern. He begins and ends by emphasising the various roles played — and ultimate sacrifices made — by French Muslims in the liberation of Europe and North Africa from Nazism.
Actually, the entire mosque is a kind of war memorial. It was founded in 1926 out of respect to the "Musulmans" who laid down their lives for France in WWI. When Boubakeur addresses the gathered dignitaries, he makes sure to press home the horrors of the Holocaust as well: it was here, after all, within the mosque's walls, that his predecessor, Si Kaddour Benghabrit, ran a secret refuge for Algerian and European Jews during the Occupation, often providing them with fake Muslim birth certificates. The Grand Mosque was Grand Central on the underground railroad.