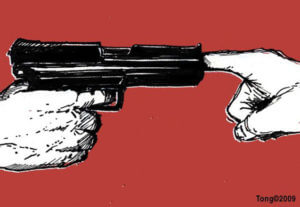 Over at Chronicles, Dan Gifford has a tremendous article about the cultural disconnect between gun owners and the shapers and influencers of modern society. Here's a sample, but read the whole thing, it's really worth your while.
America's almost entirely liberal chattering class has for years undermined the fundamental right to keep and bear arms by creating false metaphors based on academic frauds and emotionally charged language. Disseminated through pop culture, these pejorative factoids are now ostensibly unshakable. And unfortunately, the ability of the average Second Amendment defender to reject the chatterers' use of the negative term "gun lobby" has been woefully insufficient because the typical Second Amendment defender tends to be a literalist who is disconnected from popular culture.
The cultural gulf between gun owners and those who favor civilian disarmament is huge, and right now, it's not getting any smaller. The chattering classes in the Northeast are amazed when "Duck Dynasty" or The Passion of the Christ become hits, and then they attempt to capitalize on that success with tone-deaf efforts such as the Noah movie and similar attempts to speak the language of a country they've never been to.
By that same token, we on the right incessantly mock the excesses of left-liberal culture. The antics of today's social justice warriors and the ongoing confusion over self-declared genders (and even races) provide plenty of grist for right-wing humor mills.
We don't understand their culture, and they don't understand ours. However, just as there are distinctly religious elements to "our" culture, there are religious elements to "their" culture, and those elements are becoming more noticeable all the time.
This changes the equation. Gun culture, as the Gifford article notes, tends to frame arguments in terms of a left-brained, literalist world view, while the anti-gun forces, by their own admission, use emotion. We've known that for years now, but we've not done a good job fighting back, as we lack the mental framework needed to create a strategy to counter an emotional appeal.
However, we do know how to counter a religion that's encroaching on our territory. We need to start thinking in terms of proselytization, not rationalization. We need to talk about the how wonderful it is to respect individuals for who they are, without wondering whether the tacos we're eating are appropriating someone else's culture. We need to take them to gun range and go shooting with them, because, as I've said before, guns are the gateway drug to freedom.
In short, we need to have fun.
Andrew Breitbart opened the door to this with his "happy warrior" mentality, and in some ways, Milo (and others) are picking up the banner and continuing to lead the charge. As a Facebook friend of mine once said, in a culture war, never bet against the side that's having more fun. We need to show the world that conservative ideals are fun, and expose liberals as the Neo-Puritans they really are.