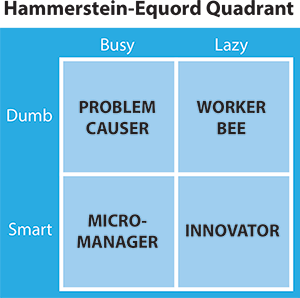 In my latest op-ed for the local fishwrap, I tell the tale of an old German general with the mouthful of a name Kurt Gebhard Adolf Philipp Freiherr von Hammerstein-Equord. Between the world wars, he was tasked with restructuring the military, at least until he tried to kill Hitler, which got him into a spot of bother. But how he decided whom to promote and whom to fire fascinates me from a business perspective.
He divided the entire officer corps into four quadrants, which I illustrated in the chart to the right:
Dumb and busy.
Dumb and lazy.
Smart and busy.
Smart and lazy.
Since Hammerstein-Equord was a highly disciplined German officer, you would assume he'd fire those in Quadrant 2 (dumb and lazy) and promote those in Quadrant 3 (smart and busy). But you'd have it backward.
Instead, he considered Quadrant 1 (dumb and busy) to be walking disasters, and he fired nearly all of them. The Quadrant 2's were fine if he gave them simple, repetitive tasks, and a hearty dose of Prussian boots to the hintern.
Quadrant 3 (smart and busy) seem like they would be the cream of the crop, but to Hammerstein-Equord they had … issues. These officers were always doing something, even when nothing needed to be done. Quadrant 3's micromanaged their subordinates, created complicated new "improvement" programs, bothered their superiors with useless information, and, while they were mired in minutiae, missed the big picture. As a result, Hammerstein-Equord never promoted them to a commanding officer level.
The real stars lived in Quadrant 4. These smart and lazy officers were promoted to the highest levels of the military. They were clever enough to see what needed to be done but relaxed enough to find the easiest, most direct way to succeed. Quadrant 4's didn't get mired in the details, but delegated those chores to staff — and then left them alone.
Hammerstein-Equord's quadrant is a handy tool for business, but also for politics. When I look at Washington, I see warehouse-sized offices filled with of Quadrant 1 and 3 types. Bureaucrats are usually mocked as lazy, I'm more concerned about the really ambitious ones. Always looking to create a new climate change scheme, transgender bathroom initiative, or tome of pickle regulations. And don't get me started on energetic politicians.
A lazy leader would see a social problem and ask, "maybe the private sector should do this," "looks like charities are handling it," or "I'll let my constituents figure it out for themselves." A position of "don't just do something, stand there" is inherently conservative.
To quote the sainted Calvin Coolidge, "When you see 10 problems rolling down the road, if you don't do anything, nine of them will roll into a ditch before they get to you." The key, of course, is to recognize that one serious problem and expend your energy on that.