Automobile and technology companies are proceeding full-speed ahead into autonomous vehicles. And regulators are actually moving pretty fast, too. But what about consumers? What do they want? And what are they willing to pay for? To find out Bain & Co. surveyed a bunch of them in different countries: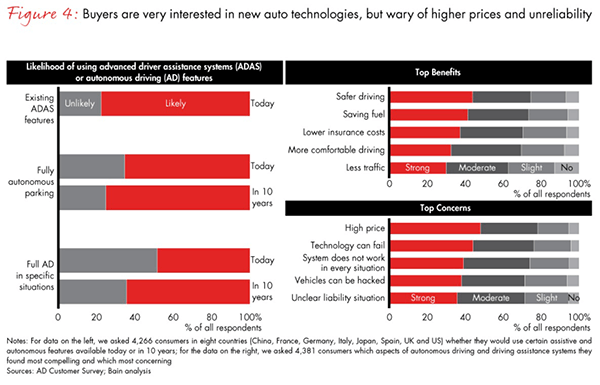 And from the report:
About 80% of buyers said they were likely to use assistive features. Only about half of buyers expressed interest in using vehicles that are fully autonomous today, even though two-thirds agreed that autonomous vehicles represented the future of driving. … Drivers named safer driving and lower fuel and insurance costs as the leading benefits from these technologies. However, their enthusiasm is tempered by concerns about high costs and the reliability of the technology, including its vulnerability to being hacked. Liability issues were also a concern.

Our research, which examined the trade-offs buyers were willing to make between different features of a car, showed that customers were not willing to spend much more on advanced ADAS features (including fully autonomous highway driving) than they spend today on basic ADAS features like adaptive cruise control. Thus automakers and suppliers have their work cut out for them: Not only do they have to deliver the technology leaps to meet increasing customer expectation regarding both the capability and reliability of these systems, but they will also have to do so at costs that match those of today's assistive features.
So not surprising: Safety is a key concern. But if those concerns are met, will consumers be more enthusiastic and be willing to spend much more? I think it is hard to know, especially since the mental model is "advanced car" rather than "a different mode of transportation." I mean, the automobile wasn't just a much improved version of the horse and carriage, and thus "horseless carriage" was a descriptor that mislead rather than enlightened. As Andreessen Horowitz analyst Ben Evans recently said on EconTalk:
So, Level 5 is the point where you are confident that you can take the steering wheel out of the vehicle, and that you can potentially drive–for example, you can design a commercial vehicle without a human cabinet at all. Now, I think the interesting thing, as you move along that progression, is that a Level 2, Level 3, is basically a safer car but it's still a car. Level 4, Level 5, you use the term 'self-driving cars.' I prefer the term 'autonomous.' And the reason I don't like the term 'self-driving car' is that's very like saying 'horseless carriage.' That, you remove the horse from the carriage–and if you look at early automobiles, early vehicles from the early 20th century, they've taken the horse off, but it's still a carriage. … And in the same way, you remove the person, but it's still a car. Well, that's not how it works. And, you know, removing the gas tank just as electric isn't about removing the gas tank, autonomy isn't about actually about the car driving itself. It's about the you getting rid of the person. And it's about changing everything else about that vehicle. And everything about the city around it. In much the same way that removing the horse wasn't just about removing the–it changed everything else about vehicles and everything else about it.