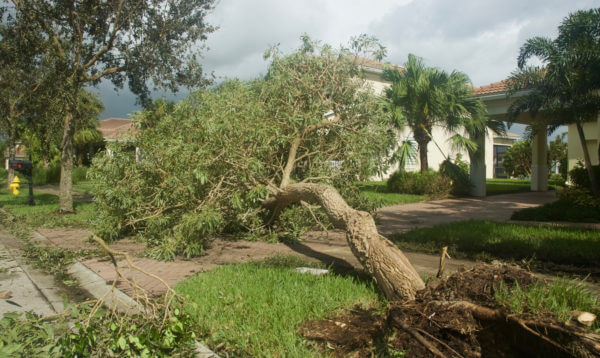 As some of you know, the northwest part of the eye wall from Hurricane Irma passed right over our house in southwest Florida this weekend. We took the worst part of that hurricane and we took it for two hours straight. Our family is fine, our house is essentially undamaged and we are starting to get our lives back together now, three days since it passed us.
Here are a few observations from the experience:
Have someone on your block crazier than you. We hid in our safe room when the eyewall passed over us, but one of my neighbors went full Jim Cantore and stayed outside. Good thing he did, because he spotted a blocked drain that might have flooded our street. He cleared it while the hurricane was raging. Crazy.
You know those clichés about a hurricane sounding like a freight train? They're right, it does sound like that.
Have more communications than you think you'll need. Our internet is still intermittent and cell data was restored just last night, making our cheap wind-up AM/FM radio our sole source for relevant information.
The more lumens, the better. I fortuitously bought a five-pack of very bright "tactical" lights the week before Irma hit, so all of our family had a bright light with them at all times.
Want to be prepared for something like this? I wrote about prepping on Ricochet a few years ago. Here's part one and part two of my quick guide to prepping for non-preppers.
The sound of garbage trucks is the sound of civilization returning to your street.
You may not need your neighbors to provide you power, lights, etc., but they come in darn handy for emotional support after the storm is (literally) passed. That crazy Jim Cantore guy I mentioned? He's a recently retired Master Sergeant from the 82nd Airborne and a combat vet. Having him around to keep an eye on things was a big help.
When it comes to keeping your streets safe after the hurricane, candlepower is better than firepower. A neighborhood watch and a few bright flashlights will keep all but the most determined of looters at bay. But it's still nice to have a little punch behind the bright light as well.
Get good intel. I visit the National Hurricane Center's web page every day during hurricane season, and I talked with a family friend who worked with the NHC when Irma started to shift westward. She can read hurricane maps like a road map, and I went to Walmart the day after she said it might turn our way, which gave me at least a 24-hour head start to buy in-demand items like bottled water, bread, and stove fuel.
Again, I can't stress how important it is to know your neighbors before something like this happens. It's not going to be your local Black Lives Matter group, the local Republican National Committee office, or your Facebook friends in far-off cities that will show up when you need to clean up the blown-down trees in your front yard. It will be the neighbors on your street who come to your rescue.