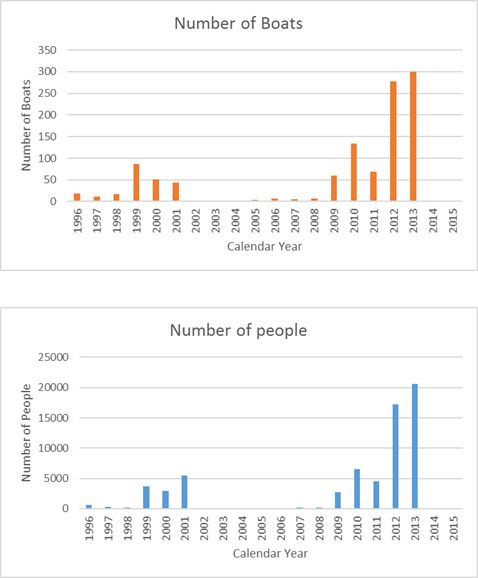 Just two years ago, Australians were told that "push factors," not our government's policies, were responsible for the increase in refugee boats arriving on our shores. Fortunately, the Australian people elected a new government with new policies designed to "Stop the Boats." The results are to your right. And no, 2014 and 2015 aren't lacking data: they properly indicate that there were, in effect, no more boats.
To give you some background, a significant number of boats carrying "asylum seekers" began arriving in Australia in 1999. Concerned, John Howard's government instituted a policy of immediately detaining all unauthorised arrivals before transferring them to Australian-run detention centers in nearby nations (the "Pacific Solution"), as well as creating a new visa category for those already here that could not be converted into permanent residence status. Along with a high profile detention effort (The Tampa Affair) in 2001, the message got out and the arrivals dried up. In 2002, there was just one boat with one person.
Over the next few years, the smugglers occasionally probed. Six boats arrived with 60 people in 2006. But the policy was controversial. We were turning our backs on asylum seekers (of course, very few had come directly from their place of alleged persecution).
In 2007, a new, more compassionate government was elected. Prime Minister Kevin Rudd and the Labor Party closed down the Pacific detention centers (which, by then, has a total of one — 1! — inmate) and eased up on policy. Predictably, the boats returned. Only seven in its first full year of government, with 161 people. But in 2009, it was 60 boats with over 2,500 people. In 2012 it was 278 boats with 17,000 people. And during those few years, an estimated 1,200 would-be arrivals — four percent of the total — drowned at sea.
The Labor government insisted that their policy wasn't to blame. It was, instead, "push factors" beyond its control. Events overseas had generated waves of displaced people, so it was only natural that the numbers had gone up. The suspicious coincidence between policy changes and arrivals statistics meant nothing. I personally saw and heard dozens of smart people — journalists, judges, academics — on TV and radio repeating this line.
The Labor government was in turmoil over internal dissension and obvious policy failures. The opposition Liberals — Australia's conservative party — said that, if elected, they'd fix the boat arrivals. They promised to get them down to near zero in their first term (three years here). They'd re-introduce the "Pacific Solution," temporary visas, and boat "turn backs" (when safe to do so, they said).
Panicked, the Labor government changed Prime Minister (again!) a few months before the election, and started to re-open the offshore detention facilities (it took time; they'd fallen into disrepair). But it was too late. Led by Tony Abbott, the Liberals took power in September 2013 and introduced its policies — except for the temporary protection visas, which it couldn't get through Parliament — with a twist: it appointed a senior military officer to run the program, declared it an "operational matter" that only warranted limited, occasional press briefings, which pulled the whole thing out of the news.
Now, look at the graphs again. To my knowledge, only one boat has arrived since 2014. The smugglers have largely stopped trying. There were eight attempts in the last year, resulting in eight tow-backs.
Moral: it is not just push factors. You don't reduce illegal immigration by increasing the number of legal places; in these days of cheap travel and millions seeking a better life, demand is effectively infinite. Instead, you have to make it thoroughly not worth the while of the would-be entrants. Don't let them stay, and make it clear that they will get no return on the money they pay the smugglers (boat passages to Australia were around $10,000 a head).
Incidentally, on a per capita basis, under the present "heartless" government, Australia accepts more genuinely assessed asylum seekers on a per capita basis than any other country.