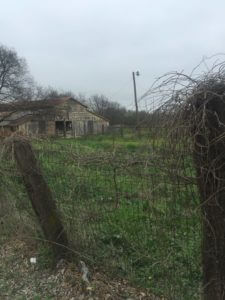 It never was an overly impressive place, even its heyday, and time and lack of use have not made it anymore so. It had at one time been a lumber yard located just beyond the edge of town on what the locals referred to as "oil mill hill" because of the cotton gin and oil press which sat there next to the railroad tracks. But when the lumber business had failed to compete with the better-funded yard inside the city limits, it had vacant for a while until it was rescued and converted into what became its highest and best use.
The man who did the rescuing and converting was the philosopher that I have in the past simply referred to here as Black Hat. There were a few times that I actually see him in a summer straw, but not often. Normally it was a well-used black beaver felt hat, regardless of the temperature, that set off the lean face and sharp nose of one of the most respected horseman in the southwest.
The first time I remember meeting him, he had moved into a new job less than 10 miles from where we lived. He had been managing and training for a large cattle and quarter horse operation but had been lured away by a new house and a high salary to manage and train for a new horse operation funded by high dollar lady intent on doing things in a big way. A huge indoor arena, biggest private one anywhere, was only part of the building done before the lady hired Black Hat which was considered quite a coup at the time
The man was more than a decade older than my dad but they had roped in the same circles and we went to visit as soon as he moved in. For well over an hour we walked the grounds and discussed horses (or I should say he and Dad did, I listened). Before we left, he turned to me and asked, "You're supposed to a big reader aren't you?"
When I answered, he went over to a table in his "office" and I could see him leaned over and writing something. He then handed me a copy of the book he had authored about using the American quarter horse which at the time was considered the best on the subject and assured me, "It ain't hard to read, no big words." I may collect and read books by the box but that one is one of a few which is always within reach of any desk I have ever had.
Before we had left that afternoon, Black Hat had told us the story of how his new employer had just gotten a divorce one day and remarried the next day. In his slow, heavy drawl he speculated, "They really wanted to get it all done in one day, but stopped to eat and threw the whole thing off."
On the way back home in the truck, Dad called Black Hat by name and said, "He won't stay there long. Not his kind of people."
And he didn't. Within a few months, he had bought the abandoned lumber yard and began converting it into a horse barn and building pens on the four acres that went with it. For the next several years this weathered and plain corner was his base of operations and also somewhat of a retreat for me. As I got closer to actually being of age to have a drivers' license (but still a year or two short) I was allowed to drive an old short wheel based Ford truck along the gravel backroads that connected the ten or so miles between his barn and ours. There I watched and listened and rode under a watchful eye that was at times more comfortable than my Dad's. There came a day when I could keep horses there that I had started as well as back "at home."
By college years, I would ride two or three for him each summer morning beginning at 5, go and take care of the tasks laid out for me at home, do some conditioning to be ready for two-a-days when they started and then drive to some rodeo all in an attempt to keep together some spending money. Black Hat claimed he left school a year before he was to graduate having come to the realization (at least in his mind) that the only two ways to make a living in Bell County, TX, were either horseback or chopping cotton. He said he was never too sure which one paid better but was damn sure which one he preferred. And he became pretty good at the horseback trade, not just as a trainer and cowman but as one of the truly outstanding calf ropers of the late 1930s, all of the 40s and into the 50s. There was not a horseman of the southwest who did not stop and listen when Black Hat talked.
Although I spent the better part of three decades coaching, some of with some outstanding coaches and teachers, I have always contended that (even if I could not name a theory behind it) I knew all I would ever need to know about teaching or coaching before I ever took a job. I learned it all in the horse pen from two quiet, steady examples from my own family and a lucky combination of a few masters that I was blessed to be around. The art of being demanding with patience to adjust to individual personalities while holding on to proven, permanent fundamental truths (and what those truths actually are) and a persistent, almost dogged quest for the very best was learned by example more than lecture.
But another valuable lab of learning was the wide, dusty hall of that horse barn. That hall down the middle between the horse stalls that had been constructed where lumber bins had once been run from east to west. Because of this, it offered little more than shade in the summer since it would catch a little breeze. It did, however, provide decent enough protection from a winter wind. Toward the east end of that hall, toward the make-shift tack room, was what could be called a relaxing place. The main seat was an old bench seat taken from an abandoned pickup, the covering cracked and dirty while what springs left varied in height and strength. Usually, there were also a couple of rusty metal folding chairs and an old "living room" chair with the stuffing half gone scattered along the wall.
After two decades in that barn, Black Hat did build a new set of pens, an arena, barns, and house on a 50-acre block outside of town. He spent his last years there giving lessons and training other trainers.
Recently, I drove by that older barn which is still more or less at the end of a little-used back street. As a result, I have recalled a few of the almost countless pearls of wisdom handed out from the dusty, cracked throne at the east end of the hall. Many require little if any explanation and I will only try and mention a bare beginning today.
"It's hard to teach a horse anything if you don't know something he doesn't…..and you never know enough to stop learning."
"Nothing teaches like mistakes and paying attention. Listening some don't hurt either."
After a long discussion with a rather sure-assured individual, Black Hat leaned back on that old bench seat and watched the other man walking out toward his car. "That feller knows ever damn thing about everthing and don't understand a bit of it." Black Hat might have understood the value of knowledge but he also knew that it was meaningless without wisdom.
"That pony won't risk failing 'till he trusts you. He won't be great 'till he understands what you want and quits just responding to a queue." Some of the best coaching advice I ever had.
"Horses are made to work cattle and cover ground. Don't train cutters, or reiners or ropers. Train cowhorses and then figure out what their best at. He has to be a good horse before he can be a good cutter, just like a feller has to be a good man before he can be anything else worth a damn." So I understood from the beginning that before a player could be a quarterback, linebacker or safety he had to first be a football player and not just an athlete. That was true in either training them or recruiting them. It is still surprising how often coaches leave behind this simple principle and end up failing with someone who checks all the boxes except the most important one. This applies to a lot more than football or horses
After my recent pass-by the old barn, I drove back over in a few days and took another look. The coat of yellow paint which never really gave it much of new look anyway was faded, cracked and peeling, exposing the weathered and almost century-old lumber beneath it. The fences were much the same as before. No painted pipe corrals here. There was a combination of wire panels and netted bull wire held up by a mixture of cross-ties, "bow d'arch" posts and cedar pickets.
There never was any deep sand riding pens, just flinty clay soil scratched with a disc plow and harrow. But three world champions trained on that semi-loose stiff clay and many more who either came close or at least held their own among the best that three different breeds had to offer. Most of those that didn't win their share of show ring honors became steady, sure horses that a man could count on and that a real man (or woman) could bond with.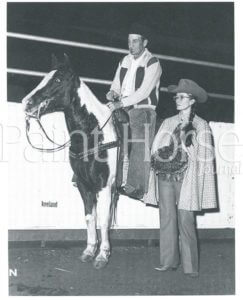 I suspect that before long that old barn will be gone with nothing there to remain of what it had been or what was once done there, much like another treasured learning ground for me some 15 or 20 miles to the south (Old Barn Reflections) written about before. But even these losses should remind us that weather, time, rust and rot will always take away the material but that what really remains for us is the abiding knowledge that there actually are permanent truths that apply in any age, at any time, at all times. They can be taught in a thousand different ways, in a thousand different places. But they are always the same, yesterday, today and for all the tomorrows to come.