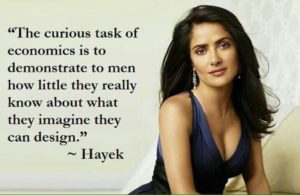 I read in the WSJ today that Amazon gets a $1.46 subsidy per parcel for the last mile delivery. Bezos, you thief, put down the Prime package slowly and slide the money back to the taxpayer. Carefully. Slowly. No funny business.
But that is kind of what business, big business, has become. Funny Business. Jamie Dimon of JP Morgan Chase in an interview in The NY Times magazine explained back in the dark days of 2009 that Chase was adding a sixth business line, government relations. Wow! Such candor.
Elon Musk makes a dreamy electric car, the Tesla S 90. 0-60 in minus 2.3 seconds. Beam me up or forward, as you wish. She is kind of sexy. Love it. And Musk's auto company is worth more than GM or Ford or just about every other auto company combined, even though Tesla makes a tiny fraction of the cars they do. But don't cry for GM Argentina, they are after all, Guvament Moteurs.
So why is Tesla worth so much? Well Elon makes electric cars and that makes government grants, subsidies, tax credits, and dinner on the taxpayer. The calculation is that Musk's company's value equals about the same amount as his government subsidies.
Call Hayek. Those theories were simply wrong. The government can create value!
And those Tesla's are good for the climate (except when recharged by dirty midwest coal power plants) and good for my testosterone shot (I am definitely feeling a bit low-T). However, what is a lion without the grrrr? Can a Tesla S be a babe magnet like say a McClaren 720S (with only 3.9 lbs per horsepower – vrrrooom, vrrrooom)? Well, kinda.
Tesla's sound barrier breakers are so quiet no one, not even you, can tell they are scratching off. They accelerate like a 747 at 35,000 feet shifting from 400 mph to 500 mph. You feel it, but there is no vibration in your soul.
To deal with this near silence in a Tesla, I decided one can play car engine noises on an Apple iPhone to make it sound like the storm and crank of raw acceleration in the morning, the smell of victory. I learned this from reading that Jaguar amps up its engine sounds with speakers located next to the engine…. virtual horsepower. Is nothing sacred? Jag too gets state assistance – but quietly.
Now my iPhone is made by Apple who uses Ireland as a phony corporate location to lower its taxes to the point that they are smaller than that chip that runs my Apple Watch. US taxpayers be damned.
Then there is me, I order all sorts of stuff on Amazon, used books by Friedrich Hayek, new books by Salma Hayek, special scented candles, Cheerios from Amazon's newest acquisition, Whole Foods, and the occasional bag of cement. And when I do this I am the one who gets that $1.46 subsidy – which makes the deliveries of 50 lb. bags of cement economical. Memo to myself, order more, get more $1.46 rebates. You gotta problem with dat? How about a cement suit for you? If you order in the next 2 hours and 17 minutes, Amazon can deliver a bespoke cement suit by 8:00 PM tomorrow, subsidized.
So to heck with the rest of you. I am planning on buying a government subsidized Tesla – after my fragile Porsche 911 sort of had a senior moment (not enough government subsidies for Porsche). I will cash in on those Tesla subsidies. Or, I may buy a government financed (rescued) GM 'Vette. Sweet. I am typing this on my iPad and checking my Apple Watch to see what time it is before my next Prime delivery, all purchased for a price deeply subsidized by tax avoidance and a holding company in Barbados owned by an Apple subsidiary in Panama and arranged by a lawyer located in the Caymans. And lest you think there is a limit to my venality, I will order my car, food, and new Apple Watch VII on Amazon – that buck and a half makes it a great deal and all this possible. The government is my friend, BFF and most definitely a "best friend with benefits."
The public trough is open. Its all you can eat. Just don't make too much noise.