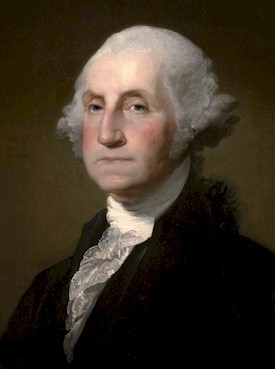 Inspired by @nandapanjandrum's anticipatory Valentine's Day post, I'd like to wish my favorite dentally-challenged, traitor-to-the-land-that-bred-him, Father of His Country, many happy returns today.
What do you mean, "not so fast?"
I know what day it is. It's February 11, right? And look, right here in Wikipedia it says, "George Washington was officially born on February 11, 1731." I read it on the Internet, so it must be true.
Oh.
There is that little phrase, "Old Style," right next to the date. What's that all about?
Oh.
So. In 1731, The Empire (you know, The Empire. Need I be more specific? Surely not), was still using the Julian calendar, holding its breath and refusing to go along with the various Most Catholic Majesties of the world who had all adopted the Gregorian Calendar in 1582. This Great Date Shift put most of the world out of step with reality, which, praise be, still pertained in Great Britain and its colonies until 1752, when George II finally cried Uncle (not sure why, his uncles were a pretty undistinguished lot), and switched the dates.
This catapulted The Empire forward 11 days, prompting the British Calendar riots of 1752, and the eruption of large crowds of the arithmetically and chronologically-challenged into the streets shouting "Give us back our eleven days!!!"
(I'd like to think that mankind [pace Justin Trudeau] has progressed in not only intellect and sophistication but also computational skills since those days, but I'm disabused of that quaint notion whenever I look at Twitter, and especially when I see that "nasty woman" Ashley Judd ranting at, and with, her pink pussy-hatted sisteren in the streets of America's major cities [speaking of quaint notions]).
But, I digress. Imagine my surprise.
Back to the point. Most of you have already figured out that February 11, plus 11 days because of the calendar switch, equates to February 22, and you can clearly see why we end up where we do, vis-a-vis Washington's putative birthday.
So let's raise a toast to George Washington today, and, if we have to do it all over again on Thursday next week, oh well, I think I'm down with that. Since I live in one of the many counties that was named after the man, in the heart of Whiskey Rebellion country, I'm going to start with a glass of "Rebellion Rye." Who'll join me?
P.S. Channeling Nanda again on the subject of International Men of Mystery, I'd also like to wish a happy birthday to someone who is (I believe) a favorite of hers, fabled soldier, resistance fighter, and travel writer Patrick Leigh Fermor, born [102] 103 (thanks @arahant) years ago today. For real. No debate about, or fiddling with, the date in his case.