The ultimate destination of that vacation with another family that I mentioned yesterday was South Manitou Island in Michigan. The island had been taken over as part of Sleeping Bear Dunes National Lakeshore, but those who owned property there were grandfathered in. When those people died, their land would become part of the park. However, one of those people owned a cabin and was a friend of Mr. Leonards*, the father of the family I was traveling with. So, Mr. Leonards got this cabin for two weeks in the summer every year, and I happened to be with them in the summer of 1976.
The cabin was not a log cabin, but more of a small bungalow home. It had two bedrooms. One taken by Mr. and Mrs. Leonards. The other was a small bedroom with a captain's bed. Like a car ferry, a captain's bed was something I had never encountered before. It was just a single bed with a built-in chest of drawers. I thought that space-saving idea was the cat's pajamas. Still do, and while my current bed is a larger affair, it does have drawers beneath it for linens and for Miss Morgana to open and crawl into. (She likes drawers.)
There was also a screened-in porch with a larger bed. Since the couple I was with had a daughter and a son, the girl, Moira*, got the bedroom, while her brother, John*, and I wound up on the screened in porch.
The old cabin on the island had some other interesting features. For instance, it had a flush toilet. However, it did not have the incoming plumbing one would expect. If one wanted to flush the toilet, one had to go outside with a five-gallon metal milk can and fill it from the pump, and then bring it back in and fill the toilet tank from the milk can. The pump was not electrified. It was a good old-fashioned muscle-powered hand pump. There was a can hanging from it that you would ensure was filled before you finished pumping. Why? I'm sure the older folks reading this will remember. Sometimes, you had to prime the pump to get it going, so you would pour water from the can down it to get it started. The first thing we did when we got to the cabin was to fill the milk cans from the pump and the toilet tank from the milk cans.
Another thing that came along with the cabin was Ol' Betsy**. It had been made illegal to bring any new cars onto the island at some point (unless you happened to be the government, of course). So, what private cars were there were old. There were some from the thirties or forties that had been left abandoned in various places around the island and that were overgrown with vegetation and rusting and otherwise withering away. I'm not sure what sort of car Ol' Betsy had started out as, but she had been extensively modified to keep her running. As I remember it, she was by that time open-topped and had what amounted to a plywood deck on the back. The island was small enough that you could get anywhere on foot, but it could be a long, long walk and a slog. So to get some places on the island, such as the dunes on the far side, we took Ol' Betsy. This meant that Mr. and Mrs. Leonards took the two seats in front, and John and Moira and I rode on that plywood deck in the back. Ralph Nader would have had a conniption fit, but the truth was we were never going much more than five or ten miles per hour and the old dirt roads were relatively good at that speed. It's also possible that I misremember.
There was a store on the island that had candy bars and T-shirts with a map of the island and other things that folks might need while staying or camping there. (Candy bars? Why yes, that was the priority of a twelve-year-old boy.) There was a lighthouse that had been in operation from 1871 to 1958. I don't think tours were offered at the time I was there in 1976, but they were when I visited more recently.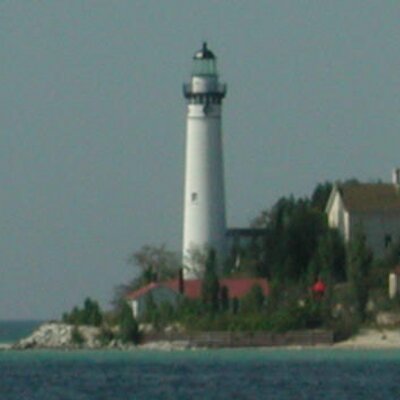 It was a nearly idyllic summer vacation on South Manitou. The island offered different habitats with the dunes on one side and pebble beaches on the other. We would go swimming in Lake Michigan. Even in the middle of summer, late July and early August, that part of Lake Michigan does not have what anyone would call warm water. We would swim for a while, and then we would come out the run around those pebble-filled beaches and soak up the warming rays of the sun, only to go back into the chilly waters. One of the days we were swimming, John spotted a rock lobster, another fascinating sight for a boy who had grown up inland.
There were also shipwrecks, such as the Francisco Morazan. We didn't go diving or anything like that, but we could see some of the shipwrecks from the island. Well, I know the history of the Great Lakes now, but that 12-year-old boy I was did not know there were shipwrecks on lakes. Oceans? Certainly. The Caribbean Sea? Of course. But Lake Michigan, which was only about 40 miles from home? Who knew?
But one of the things I remember best about that trip was just three kids hiking around the island, walking its tree-vaulted roads and trails with golden sunshine penetrating green leaves and into meadows. John and Moira and I being silly, goofing around, and singing. I'm not sure who, probably John, perhaps Moira, but one of them really loved John Denver's song that had been big a couple of years before. It wasn't a difficult or complex song.
(Except to have it in a conversation starter on Ricochet, it seems.)
We sang that song over and over again as we hiked around that island together, enjoying the sun, enjoying the light of the sun through the summer leaves.
---
* The names have been changed to protect the guilty and innocent alike.
** Except for Ol' Betsy. That's really what she was called.