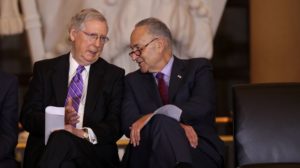 Republicans 2010: Elect us! We are the only true advocates of reducing federal spending and not raising the federal borrowing limit.
Republicans 2014: Elect us! The Republican-led House will enforce austerity measures against this free-spending President!
Republicans 2016: Elect us! We will be the voice of mounting public disgust against an irresponsible fiscal policy that has doubled the national debt in eight years!
Ahh, the halcyon days of Conservatism.
Last year the U.S borrowed $519 billion. Granted, this was a continuation of budgets created under Obama. This year, with the GOP running the whole danged show, the US will almost double it's borrowing to just under a trillion dollars ($955 billion). The $4 trillion (plus) budget was reported by a breathless CNN:
The colossal bill, which lawmakers have been negotiating for months, is a game-changing piece of legislation, clearing the decks for Congress in dealing with major spending issues as well as doling out disaster relief money and hiking the debt ceiling which was set to be reached next month.

Trump tweeted that the bill, which gives the Pentagon an additional $165 billion, was a "big victory" for the US military. But he said Hill Republicans were "forced to increase spending" in order to attract Democratic votes.
So, this Republican President with a Republican House and Republican Senate increased the budget by the tune of $300 billion. It also allowed for no debt ceiling limit until March 2019. I'll repeat that one: No debt ceiling limit!
Jennifer Grossman of the Atlas Society states:
This is like a credit card company agreeing to postpone the repossession of all that stuff you "bought" on credit and giving you the green light to keep using your card, and racking up more debt, while they happily debit your ledger with outrageous interest charges every month — charges, and principal, that you'll someday be legally liable to repay.

"We can ignore reality," Ayn Rand once famously observed, "but we cannot ignore the consequences of ignoring reality.'"

Here is the hard reality: In just over a half a decade, all government revenues will be entirely consumed by the costs of Medicare, Medicaid, Social Security and interest payments on our rapidly ballooning debt. Despite this glaring threat to our fiscal health, no one in Washington seems to be doing anything about it. In fact, they seem to be only adding to the problem, as the recent budget deal demonstrates.
Mr. McConnell, you obviously know the fiscal constraints that happen when interest rates increase, as they will. Mr. McConnell, why did you allow Senate Minority Leader Chuck Schumer to get everything he wanted?
The original budget proposal showed fiscal responsibility by committing to cut spending. Trump even included his promise to end federal funding for the Corporation for Public Broadcasting. But the GOP establishment types that go along to get along forgot everything they promised on the campaign trail. In a whirlwind couple of days negotiating, Republicans sided with liberals. They sided with growing government bigger. They sided with the media. They sided with bankrupting not just our kids and grandkids, but ourselves.
There were 67 House Republicans who broke with leadership and voted against the budget deal. Most of whom are in the Freedom Caucus; Jim Jordan and this group should each be rewarded by being re-elected. All others who voted for this monstrosity double-crossed those who elected them. They cannot be trusted.
From a 30,000-foot overview, it appears "Conservative, Inc" only used the power of the purse to win elections and fight a Democrat President to appease their base. Now they have power, they showed a lack of courage in making tough choices. They showed a total disregard for those who voted for them to decrease the debt and reduce deficits. They did exactly what they campaigned against.
Conservative voters who voted for fiscal responsibility have no home.