I read with great interest David Frum's piece on the Great Republican Revolt, Jon's reply to it, and all of your comments. I'm very frustrated by my inability to find good polling data — as opposed to impressionistic and obviously partisan sketches — about who Trump's supporters really are and what their political preferences really are. I don't know whether it's true, as Frum suggests, that there's an important equivalence between between them European populist parties, as Frum believes:
You hear from people like them in many other democratic countries too. Across Europe, populist parties are delivering a message that combines defense of the welfare state with skepticism about immigration; that denounces the corruption of parliamentary democracy and also the risks of global capitalism. Some of these parties have a leftish flavor, like Italy's Five Star Movement. Some are rooted to the right of center, like the U.K. Independence Party. Some descend from neofascists, like France's National Front. Others trace their DNA to Communist parties, like Slovakia's governing Direction–Social Democracy.

These populists seek to defend what the French call "acquired rights"—health care, pensions, and other programs that benefit older people—against bankers and technocrats who endlessly demand austerity; against migrants who make new claims and challenge accustomed ways; against a globalized market that depresses wages and benefits. In the United States, they lean Republican because they fear the Democrats want to take from them and redistribute to Americans who are newer, poorer, and in their view less deserving—to "spread the wealth around," in candidate Barack Obama's words to "Joe the Plumber" back in 2008.
I hear this a lot in France, too, from friends who are sure that Trump and the National Front represent the same phenomenon. If Frum's description were all I had to go by, I'd say, "Yep, that sounds about right."
But I suspect it's far too superficial. France and America are different countries, with different histories. I've never found it useful to draw analogies like this, and indeed I find that it often leads to catastrophic analytic mistakes. (In intelligence analysis, it's called mirror imaging.)
Frum's diagnosis — much like Bernie Sanders' — is that we're seeing a war of the ultra-wealthy against the middle class: "The GOP donor elite planned a dynastic restoration in 2016. Instead, it triggered an internal class war."
John concedes that he doesn't personally believe that illegal immigration is the biggest issue facing the country. Nor do I. But he suggests that it's "become a proxy for the chasm that divides the elite from everyone else," and thus recommends the GOP focus on proving that no matter what the elites want, the GOP sides with "everyone else."
I'm not so sure. I'm wondering if the undiscussed elephant in the room here, intellectually speaking, is globalization.
Joseph Eager left a comment beneath Jon's post that seems worth exploring a bit more:
Frum also seems to be underappreciating the importance of immigration policy, the point of which is to shift distributional policy away from redistributing income directly and towards redistributing capital (in the sense of stuff that makes people more productive).

The evidence that income-based redistribution is ineffective goes back centuries, while policies that redistribute capital are probably what caused the Industrial Revolution. It's not like we don't have a great deal of historical experience with this stuff. Use immigration to tighten labor markets; create a fiscal surplus to increase the supply of financial capital (so employers can invest in productive capital for their workers) and voila, rising wages for the masses. It's not hard.
Well, it is hard. Because you can tighten the labor markets all you like, but you can't prevent capital from moving to countries where labor's cheaper without imposing capital controls.
I agree: Policies that redistribute capital are part of what caused the Industrial Revolution. But what we seem to be forgetting is that China and India are now going through the Industrial Revolution, as are many other countries. Until the whole world is as wealthy as the United States and Europe, labor will continue to cost less overseas than it will in the highly-developed world. As the moneyed elite knows perfectly well:
Not long ago, Apple boasted that its products were made in America. Today, few are. Almost all of the 70 million iPhones, 30 million iPads and 59 million other products Apple sold last year were manufactured overseas.

Why can't that work come home? Mr. Obama asked.

Mr. Jobs's reply was unambiguous. "Those jobs aren't coming back," he said, according to another dinner guest.

The president's question touched upon a central conviction at Apple. It isn't just that workers are cheaper abroad. Rather, Apple's executives believe the vast scale of overseas factories as well as the flexibility, diligence and industrial skills of foreign workers have so outpaced their American counterparts that "Made in the U.S.A." is no longer a viable option for most Apple products.
The manufacturing jobs will not come back. Nor will mine: My skills are now mostly obsolete. The massive and rapid transformations of the digital age, globalization, and the global Industrial Revolution have changed the world of everyone alive. My own industry was creatively destroyed, along with those of many Americans my age. I expect that my life will from now on be characterized by economic insecurity bordering on terror. This grows more frightening with age and the prospect (and ultimate inevitability) of illness. So you bet I fully understand why other once-secure middle-class Americans do not appreciate being creatively destroyed. Creative destruction sounds great on paper. It doesn't when it really happens to you.
But I'm not sure that the chasm is a class war so much as it's an intellectual war between those who think rapid technological change and globalization can be controlled and those who see these forces as, literally, unstoppable absent the imposition of totalitarian measures, and ultimately futile even with them. Of course we can limit the flows of legal and illegal immigrants to the US. But to keep capital from flowing out of the US and toward countries with a competitive advantage in low-cost labor, we'd have to stifle and criminalize the very economic activities in which we do have a competitive advantage.
We lead the world in technological innovation. And the fact is, this is an elite pursuit. Only those who fall on the outer-edge of the Bell Curve in intelligence can fully participate in it. And given this, I genuinely don't know whether a large and thriving middle-class can come back.
In this sense, even though I've personally joined the ranks of economically terrified Americans, I agree, intellectually, with our monied elites. (Marxists would say I'm suffering from false consciousness. But I'm not a Marxist. I'm just someone who has concluded that you can only suppress capitalism by trampling on liberty, and that the effort will anyway be doomed to fail.)
Enter some ideas about globalization that might be worth discussing here.
Dani Rodrik is a Turkish-born economist whose work I discovered because he was, at the time, writing about politics in Turkey in a more truthful way than most Americans seemed to be. He had a personal reason to do so: His father-in-law was ensnared in the Balyoz show trial, one of the more horrifying events I personally saw in Turkey. Because I respected his writing about the country I was living in, I started reading his work in economics.
I confess that at the time, I didn't find them particularly compelling. But since the beginning of the Eurozone crisis, and in light of the way this election campaign has been developing, I'm beginning to think his Big Idea — the trilemma of globalization — has been vindicated.
You can read The Globalization Paradox here; and if you don't have the time, you can read an article here in which he simplifies it nicely. In brief, he posits an "impossibility theorem" for the global economy: "Democracy, national sovereignty and global economic integration are mutually incompatible: we can combine any two of the three, but never have all three simultaneously and in full."
He sums it up with this illustration: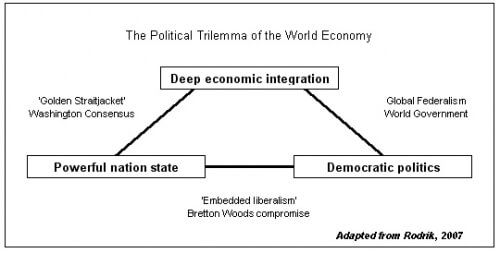 "To see why this makes sense," he writes,
note that deep economic integration requires that we eliminate all transaction costs traders and financiers face in their cross-border dealings. Nation-states are a fundamental source of such transaction costs. They generate sovereign risk, create regulatory discontinuities at the border, prevent global regulation and supervision of financial intermediaries, and render a global lender of last resort a hopeless dream. The malfunctioning of the global financial system is intimately linked with these specific transaction costs.
So what do we do?
One option is to go for global federalism, where we align the scope of (democratic) politics with the scope of global markets. Realistically, though, this is something that cannot be done at a global scale. It is pretty difficult to achieve even among a relatively like-minded and similar countries, as the experience of the EU demonstrates.

Another option is maintain the nation state, but to make it responsive only to the needs of the international economy. This would be a state that would pursue global economic integration at the expense of other domestic objectives. The nineteenth century gold standard provides a historical example of this kind of a state. The collapse of the Argentine convertibility experiment of the 1990s provides a contemporary illustration of its inherent incompatibility with democracy.

Finally, we can downgrade our ambitions with respect to how much international economic integration we can (or should) achieve. So we go for a limited version of globalization, which is what the post-war Bretton Woods regime was about (with its capital controls and limited trade liberalization). It has unfortunately become a victim of its own success. We have forgotten the compromise embedded in that system, and which was the source of its success.

So I maintain that any reform of the international economic system must face up to this trilemma. If we want more globalization, we must either give up some democracy or some national sovereignty. Pretending that we can have all three simultaneously leaves us in an unstable no-man's land.
I'm wondering if this idea, more than the idea of class war, could be a useful tool in trying to understand what's at the heart of the so-called elite-base schism.
I've even been thinking, lately, that the idea might be applied to foreign policy and national security, as well. We can be a global hegemon — the so-called world's policeman — at huge cost to ourselves. Or we can form alliances with countries that share some part of the burden. Try looking at the diagram above, but exchanging "guarantor of global order" with "powerful nation state." Exchange "deep economic integration" with "regional military alliances." Keep "democratic politics" in the same place. NATO and other regional defense pacts could be seen, perhaps, as analogues to the Washington Consensus. If we share the burden of global security with allies — deep military and political integration — it necessarily means a reduction in our sovereignty. If we don't, we bear an unfair burden.
I don't believe the globalization genie can be put back in the bottle, economically or militarily. We live in an age of ICBMs, nuclear weapons, biological and chemical weapons, and cyber warfare. If we retreat from the hegemonic role that brought the Pax America, it means losing our sovereignty in matters of national security and praying that the rest of the world may be trusted to do us no harm. If we want our allies to "pull their weight," however, and minimize the burden on us, we have to accept that our allies will not be as concerned with our security — or our values — as we are, nor as competent at securing it.
Democracies being what they are, all of our politicians (in both parties) are now assuring us that they have what it takes to "keep us safe," and that they know how to offload this defense burden onto our "allies." The place where they lie — everyone one of them — in selling this plan is in failing to stress the implications of expecting "allies" like Saudi Arabia to act in our interests.
I don't trust the Saudis to put my national security at the top of its agenda. Why should I? Nor do I want to pay for a huge and wasteful military. Why should I? Nor do I want to sacrifice American lives. Why should I? Who would? To what voter would any of that sound appealing? Not many.
So our politicians campaign on foreign policy lies, fantasies, and fairy tales. To be elected, it seems, you have to lie about foreign policy — because the truth is not what voters want it to be. This pushes much of the conduct of our foreign policy underground, into the realm of secrecy, where voters can neither see it nor appraise it. They wouldn't vote for it if politicians spoke the truth about it. And this is, fundamentally, undemocratic.
I see the trilemma at work here, too: We can only have two out of three.
I doubt this idea explains everything. Perhaps it doesn't explain much at all. No one theory about the workings of politics does.
But I thought I'd run it up the Ricochet flagpole and see what salutes. What do you think?