The short answer: nothing!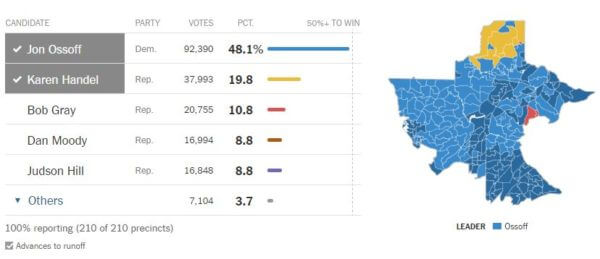 As you probably know, Georgia's 6th Congressional District was previously held by Tom Price, who is now the Secretary of Health and Human Services, which is why the seat was subject to a jungle primary between Democrat Jon Ossoff and 11 Republicans.
Price won the district by double digits in November while Trump barely defeated Clinton. The seat has been held by a Republican since the Carter presidency, so how unusual is it that Jon Ossoff won 48% of the vote?
With headlines like "Jon Ossoff Surpasses Rivals in Georgia House Race, but Still Faces a Runoff," Democrat Jon Ossoff has a real shot at Georgia election upset," and "Ossoff falls just short in Georgia special election as GOP gets wake up call," you'd think pretty darn unusual.
I contend that there's nothing unusual here and while the GOP may have to worry about 2018, it's not because of this election.
1) The total Republican vote would have defeated Ossoff.
Ossoff only won 48% of the vote. The total numbers of votes cast for Democrats in the jungle primary: 94451. Republican votes: 97997. Now that the election is moving to a one-on-one match-up between Ossoff and the top Republican vote getter, Ossoff is the one that faces the uphill climb, not GOP contender Karen Handel.
The media loves to quote the $8,000,000 raised by Ossoff as a sign of impending GOP doom. However, 95% of that $8 million came from outside of Georgia's 6th. When you add in the amount of outside Republican money dedicated to anti-Ossoff ads rather than to a dedicated GOP candidate (remember that there were 11), the amount is pretty close.
3) Comparing Price's election results to Ossoff's is irrelevant.
Price was an incumbent with good name recognition. He raised $2.1 million. His opponent raised $0 and had no campaign website. Obviously Ossoff, a young and charismatic Democrat who out-raised his Democrat predecessor by $8.3 million outperformed him against a Republican party divided amongst 11 candidates. There is no correlation between Price's election results and Ossoff's.
4) When compared to Hillary vs. Trump, Ossoff is in trouble.
Price may have won his seat by double digits, but Trump only won the 6th district by less than 2 points. Ossoff's 48% is barely better than Hillary's results. When facing off against a single Republican, we have every reason to suspect that Ossoff will lose.
---
This special election turned out exactly how one would have expected it to, despite the headlines desperately searching for a liberal victory against President Trump. The real message will be sent after the runoff election. However, this message is relatively insignificant either way.
If Ossoff wins, it simply means he won a district that wasn't too fond of Trump in the first place. If Karen Handel wins, it means the district hasn't changed their minds much since November. Either way, this is not the election to watch to try to predict the 2018 midterms.
What do you think of this analysis? Should this election have us worried?