United Airlines has a PR nightmare on its hands as a disturbing video burned up the Internet. After overbooking the flight from Chicago to Louisville, the crew chose four passengers at random to leave the flight. Passenger number three was a doctor who said he needed to treat patients in the morning, so refused to leave. The flight crew called security, which forcibly yanked him out of his seat and dragged him down the aisle.
This being 2017, several passengers recorded the whole thing on their smartphones:
@united @FoxNews @CNN not a good way to treat a Doctor trying to get to work because they overbooked pic.twitter.com/sj9oHk94Ik

— Tyler Bridges (@Tyler_Bridges) April 9, 2017
Airline staff first tried a carrot before using a stick. Before boarding, they offered passengers $400 and a hotel stay to give up their seats. Once boarded, they doubled it to $800 and said the flight wouldn't leave until four people were gone. When no one volunteered, a computer selected four passengers at random.
With condemnation raining down on the airline, United's CEO issued a statement: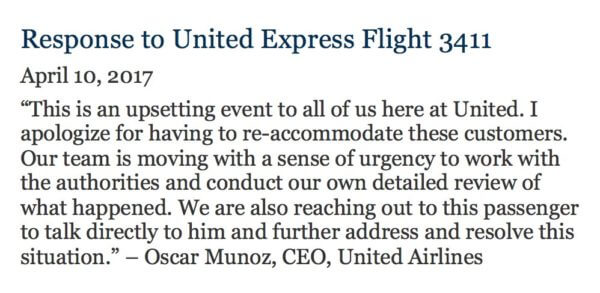 Using the term "re-accommodate" to describe forcibly dragging a customer off a plane only fueled the online firestorm.
How should United have reacted in this situation and what can they do to fix it?