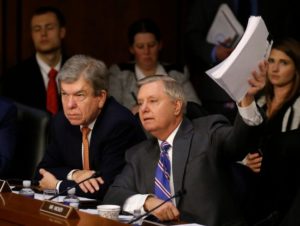 Among my takeaways from Facebook boss Mark Zuckerberg's whirlwind Washington tour is that Congress thinks the status quo is unsustainable. Of course some politicians might think the "status quo" is the data privacy reality before the pre-Cambridge Analytica scandal. But the social media platform has announced a number of steps to tighten things up since then.
Yet none of those voluntary measures will stop legislators from trying to push new rules on Facebook. As Sen. John Kennedy, a Louisiana Republican, told Zuckerberg:
Here's what's going to happen — there are going to be a whole bunch of bills introduced to regulate Facebook. It's up to you whether they pass or not. You can go back home [and] spend $10 million on lobbyists and fight us, or you can go back home and help us solve this problem.
Of course writing a bill is a whole lot easier than building enough consensus to pass one, especially in a contentious Congress in a midterm election year. Also consider that the Trump administration has made a big deal about deregulating American business. Hastily slapping new rules on one of America's most successful and innovative technology companies would seem to cut against that. Indeed, one of Zuckerberg's talking points listed in his notes addresses Facebook's role as an American champion company of sorts: "Break up FB? US tech companies key asset for America, break up strengthens Chinese companies."
But antitrust action seems a far less likely legislative remedy than regulation. After all, policymakers already have a handy model, Europe's General Data Protection Regulation, to guide their thinking. What should also guide their thinking is the unintended consequences of a new massive regulatory scheme. Like what? How about actually reducing competitive threats to Facebook and helping cement its strong incumbency. On this point, I found the following analysis by Ben Thompson, laid out in a recent episode of his Exponent podcast, to be instructive:
It's interesting to think about what that regulation might look like. The obvious answer, and Zuckerberg was basically saying as such in these interviews this week, is "Well people really want their data locked down. They value their data being locked in." It's so self-serving, but it's also sort of inevitable. The answer is going to end up being don't share data with anyone ever, which at the end of the day is not exactly the worst outcome for Facebook because they already have all the data, so now they don't need to share it with any would-be competitors.

This is a fundamental challenge here. If you think Facebook is too large and is too powerful and you want competitors to come along, and I've proposed this, you need some sort of data portability. And by data portability I don't just mean all your photos and pictures and all that — not just, "Oh, GDPR, that's data portability." Yeah, you have to have an API to export all your photos and status updates and all that sort of stuff. But you know what [GDPR] explicitly bars? Exporting stuff about your friends, identifying information about your friends. Guess what is the most valuable data that Facebook owns: The connections, the network.

We're barreling toward this world where yes Facebook may get regulated, but that regulation will do nothing but entrench their position and make it that much harder for a competitor to come along, particularly when that competitor is not going to be able to take some of the shady shortcuts that other companies may have taken in the past to acquire your data.

What's the other way that companies get networks? They use your contact book. . . . And you might think that's a bad thing, but imagine if that didn't exist. Imagine you were trying to build any sort of social network, any sort of community-based product and Apple locked down contacts, Android locked down contacts, Twitter locked down their graph, Facebook locked down their graph — you have to start from absolutely nothing, there's no way to bootstrap it. And this is where we are barreling towards. And it's arguably an even greater problem than the one we are trying to prevent.

Basically Facebook ruined it for everyone, by giving away so much data that the end result is going to be all data-sharing is going to be banned. And again, what is most needed is a way to export the friend graph of who your friends are. There is no perfect solution where you have perfect privacy and you have competition in these spaces. There has to be a balance here.

To me, the reasonable balance is you can export your friends' names and email addresses, because those are the identifying information. We can have a debate about this, but the point is that debate is barreling toward not happening at all. We are just going to have total walls put up between these services, and it will be terrible for competition, and Facebook will end up as the officially-sanctioned data-holder for everyone.