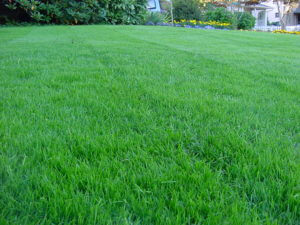 One of the biggest benefits of spending nearly a decade in grad school is the tremendous amount of free time it affords you. One of the things I invested time in (besides basking in the then golden age of Ricochet) was understanding the ins and outs of lawncare.
Like most things, there's popular advice that's often wrong, there's the deeper level of understanding if you're willing to search past the headline websites, and then there's the cutting edge/speculative insights that you'll find if you scour every message board.
Since we're moving into fall, which is the best time to do lawn renovation, and I'm planning on going all out on my new lawn this year, I thought I'd share all my best advice so you don't have to scour the internet. Since I don't have the patience to write it all in depth, I'm going to try to keep this as concise as possible and you can ask me to expand on anything in the comments.
As I said, fall is the best time to plant grass seed. Ideally right after the worst heat of summer (though you are always at the whim of the weather.) This usually means August 15 for the most northern states to September 15 around the middle of the country (again, my expertise is cool season grasses meant for Northern US Climates.) This year is especially cool in the midwest, so if you have any plans to do this, get moving now!
Grass Seed
First you need good grass seed. This is hard to find at your local store but I find outsidepride.com to be reasonably priced for high quality seed. I recommend sticking to mostly Kentucky bluegrass. More than 5-10% ryegrass will likely make your lawn mostly ryegrass, which isn't terrible, but is not my preference. This means you might have to buy a couple small bags and mix them yourself because pre-made blends tend to have a lot of ryegrass and also fescue, which I don't care for.
There's a special grass seed called Supina which is great for dense shade. This is a breakthrough, but it's expensive. $40 for the first pound of pure seed. Luckily, Supina is highly competitive and a little bit goes a long way. So you can get their mix with 75% rough bluegrass (for half the price) and the Supina will overtake it after a couple years. I planted this blend on the side of my house, which gets very little sun, in March and it's done nicely.
A mix I'm thinking about using in the future is the following. Don't feel you should follow this, I just like to overthink things.
This would have the benefit of maximizing genetic diversity and allow whichever grass is best suited for each area in the lawn to outcompete the others.
Planting Seed

Now that you've picked out your seed, how do you give it the best shot at taking hold. Well, it can be as little or as much work as you want it to be. The most steps you follow the better, but you don't have to do all of this to get good results.
Scalp your lawn, mow it as low as possible. This is bad for your existing grass, but you need it as short as possible to help new seed grow. Cut it to 1.5″ or lower.
Dethatch. You probably have a thick thatch layer, which is dead grass material that strangles your live grass and prevents new grass from taking hold. I've dethatched with backbreaking raking for years, but this year I got one of these for just over $100. One of my best purchases ever.
Aerate. You can get a local company to do this for you for around $10 for each 1,000 sq.ft. (minimum around $40). This does all kinds of good things for your lawn, including removing thatch. Moderately Water your lawn a day or two before they come out.
Spread seed. Around 3 pounds/1,000 sq.ft. for a mostly Kentucky bluegrass blend on new or thin lawns. Half that if you are "overseeding" on an already full lawn. Use a broadcast spreader to spread half the seed around the yard in one direction and the other half moving perpendicular to the first pass. Ideally, you'd use an empty metal (or slightly full plastic) lawn roller to make good contact between the seeds and the soil.
Fertilize. Find a starter fertilizer that has phosphorus and at least 30% of the nitrogen as "slow release" and spread it at recommended levels.
Mulch. I really like to spread a thin (1/8″ – 1/4″) layer of Peat Moss because it keeps the seedbed moist longer after watering, which is the most important thing to do. I just bought one of these to make spreading easier so I no longer need to do it by hand.
Water. The seed needs to stay moist, but not soaked. This is the hardest thing to keep up on because you need to water it at least twice (and more likely three) times a day for the first month. No exceptions. This is the least forgiving and where people mess up all their hard work and what makes the mulch step a good idea. After a month, you can water once a day for a week, then every other day for a week, and then commence a normal watering routine of once or twice a week.
Of these steps, I'd place the order of importance (after 4 and 7) at 5, 1, 3, 6, 2. So put in as much (or little) effort as you're willing.
Caring for Your Health Lawn

After your lawn is up and running (or even if you're nursing your unrenovated lawn) here's the best way to keep it looking its best.
Water once or twice a week to give your lawn about 1″ of water total, including rainfall.
Mow at 2.5″ (or 2″ if you prefer) in the Spring and Fall when it's relatively cool and 3″ or 3.5″ in the summer when it's hot. Try not to take much more than 1/3 of the blade off, which can mean more mowing than you'd like so this is another recommendation that's hard to stick with.
Get your soil tested locally for about $15 once a year or every other year and make the pH slightly acidic (about 6.8). Add sulfur if it's too basic, add lime if it's too acidic. This will also tell you if you need more or less phosphorus or potassium (potash). Other than that, you should apply about 4-5 pounds of Nitrogen per year per 1,000 sq.ft.
The most important time to apply Nitrogen is right now, early September. Usually apply 1 pound at a time. The next most important time is actually around Thanksgiving, and you can apply up to 1.5 pounds at this point. This is one of those tips few people know about. (You could also give your lawn a 0.5 pound boost in mid-October) Spring is the least important time to fertilize and can sometimes do more harm than good. You can feel free to fertilize in early May (and mid-June if you insist) after the fast spring growth slows down. Don't apply fertilizer in July or August.
WEED KILLER
When and what types of weed killer to use is tricky business. I've developed a couple of favorites, but they mainly have to be bought online in concentrated form and diluted yourself.
Unfortunately, you often have to make a choice between killing weeds or seeding grass, since beside Tenacity (and Roundup) you can't seed for three weeks after or use herbicide until you've mowed new grass twice (five to six weeks after seeding). If you're trying to choose which to do, I'd pick seeding over killing weeds since new grass is good at outcompeting weeds. After you have a strong lawn you can battle the weeds directly.
Good times to use weed killer are April growth and October dormancy, with October being the best. The weeds are pulling in nutrients from the leaves and they will absorb the herbicide at the same time. If you get your grass seed out soon enough, there's a chance it establishes itself in time for you to spray for weeds in mid/late October.
I'll update this post as I think of things and if people have questions. If you like it, please bookmark it for future reference!