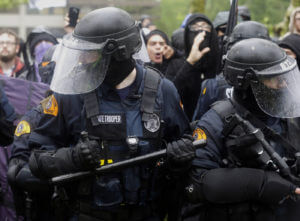 It's been two years since violent racial unrest crippled the University of Missouri. The school's decision to coddle the mob resulted in freshmen enrollment dropping by more than 35 percent, the elimination of 400 positions, and the closing of seven dorms. The 2017 enrollment drop lost the school $16.6 million, while a disgusted state government punished the campus with another $15 million in cuts.
Following this summer's angry protests at the much smaller Evergreen State College in Olympia, WA, that school is also facing the "Mizzou Effect." The College Fix has the deets:
Administrators at The Evergreen State College have announced that the embattled school faces a massive $2.1 million budget shortfall due in part to a drop in enrollment, and the institution has already handed out some temporary layoff notices as officials grapple with balancing the books.

In an Aug. 28 memo to the campus community titled "Enrollment and Budget Update," officials report that fall 2017-18 registration is down about 5 percent, from 3,922 students to 3,713. But the problem is nearly all of the students they lost are nonresidents, who traditionally pay a much higher tuition to attend, officials explained in the memo, a copy of which was obtained by The College Fix.

Combined with a shortfall in funding from state coffers to shoulder a mandatory cost-of-living salary increase and a rise in the general cost of operations, and the school must find a way to resolve a $2.1 million shortfall for the fiscal year that began July 1, according to the memo.

"This creates the need for significant budget cuts in the immediate future," the memo states, adding that the university late last month already handed out temporary layoff notices to 17 facilities staff members.
Universities might praise Marxist economic theory, but they're waking up to how the real world operates. Even the most progressive upper-middle-class parents won't send tens of thousands of dollars to schools that won't prepare their kids for adulthood — or even provide physical safety.
The free market works, even among the woke.