Does the name Sergio Dipp mean anything to you? If it doesn't, you're neither on social media nor a fan of the National Football League. But last night, Sergio became the temporary center of the Twitterverse for this performance:
This was in the second game of ESPN's Monday Night Football doubleheader. Because there is no Monday game in Week 16, the network gets two games for Week 1, which also means there is a one week hodgepodge production team thrown together. They've used the occasion in the past to hype various projects and talent such as Mike & Mike. This year they decided to make some political statements. Of course they did.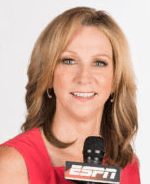 First, they chose Beth Mowins for play-by-play making her the first woman to call a regular season NFL game on national television in 30 years. Quite frankly, I have no problem with that. Mowins is a pro. She works hard and comes prepared. She asks questions and doesn't pretend she's played the game. She's toiled for years calling the most meaningless Big Ten games the network could find for noon kicks on ESPN2. She has more than paid her dues. (And she starts calling regional CBS games starting September 24 in a network talent-sharing agreement. If working with Rex Ryan last night wasn't punishment enough, CBS is going to make her watch the Cleveland Browns.)
Enter young Mr. Dipp. Just 29, Dipp is a Mexican national who has worked for ESPN Latinoamérica since 2013. (Not to be confused with ESPN Deportes, their domestic Spanish language channel.) The producers decided that his topic would not be the game but the politics of the game, that is, a pregame prayer to the Gods of Diversity. And, of course, immigration.
His performance was so embarrassing he never returned to the air after the open.
But this wasn't a job Americans won't do. Think of the amount of talent they had to eliminate for Dipp to become their best bad option. In their springtime talent purge they axed a lot of people who either played the game or know their way around the sidelines. Folks such as Danny Kanell, John Clayton, Jerome Bettis, Dr. Jerry Punch, Ed Werder, and Trent Dilfer. All of whom would not be trying to report in their second language and none of whom would have been persuaded to talk about anything other than the game.
ESPN got exactly what they deserved.
Addendum: Someone pointed out to me that I may have been unfair to Mr. Dipp on his "diversity" comment. Perhaps that is a fair assessment. He may have only been referring to the coach's diverse experiences. Quite frankly, it was such an incomprehensible mess that I don't know where he was going with that. So I will concede the point.