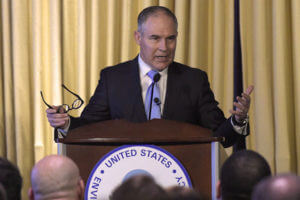 The science may not be settled, but EPA Administrator Scott Pruitt wants it televised. He raised the idea of a TV climate change debate in an interview with Reuters:
"There are lots of questions that have not been asked and answered (about climate change)," EPA Administrator Scott Pruitt told Reuters in an interview late on Monday.

"Who better to do that than a group of scientists … getting together and having a robust discussion for all the world to see," he added without explaining how the scientists would be chosen.

Asked if he thought the debate should be televised, Pruitt said: "I think so. I think so. I mean, I don't know yet, but you want this to be open to the world. You want this to be on full display. I think the American people would be very interested in consuming that. I think they deserve it."
We do deserve it, especially since every proposed solution involves raising our taxes, damaging our economy, and making citizens more submissive to federal and global bureaucracies.
Reuters helpfully labels Pruitt "controversial," journalese for "we don't like this guy." But I'm curious what disagreement believers in apocalyptic climate change will offer to Pruitt's idea, outside of mockery and #science hashtags. They'll try to dodge a free and fair debate, since their "argument" has been mocking skeptics, equating them with Holocaust deniers, and suing them into silence. That strategy has only emboldened the doubters. And the eco-doomsdayers' storied track record of bad predictions has hardly won them converts.
"If you're going to win and if you're so certain about it, come and do your deal," Pruitt said. "They shouldn't be scared of the debate and discussion." Just so.