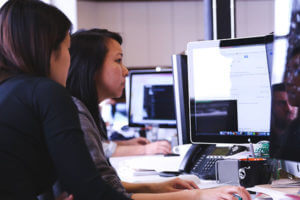 In his 2015 article "Obsolete Annual Reviews: Gallup's Advice," Jim Harter at Gallup published what should have been headline breaking news. Based on the Gallup studies of the American workplace, only 50 percent of American workers strongly agreed they know what is expected at work. This figure has not changed significantly in the 2016 and 2017 reviews.
How on Earth can leaders expect their employees to execute their visions if half of their workforces are not sure of what is expected of them?
Most people want to do "good work." But they need to understand the meaning of "good work." If they don't, frustration with unclear expectations can quickly lead to apathy. In short, unclear or conflicted expectations can lead to employees working just for a paycheck, instead of working for the organization. I can say from personal experience, as a customer and as a manager, those employees do not understand the value of customer service and are minimally productive.
Even engaged employees cannot move the organization forward if they do not understand the roles they play in the vision and mission of the organization. Employees want to know they are valued, and that they contribute value to the organization. If that message is lost, they are ripe to be plucked by another organization, and then their talents and enthusiasm are lost.
Usually, if you ask about expectations, organizations will point to the job description. I think most of us have had at least one job description that seemed nothing like what we actually did at work. There is a truth in the old joke about "Other Duties as Assigned" becoming a catch-all for additional duties. Clearly, a job description by itself is inadequate for communication of expectations.
Harter also discusses the need to move from annual reviews to regular contacts that set expectations. Citing Gallup research, he proposes four approaches:
Clear and meaningful organizational objectives.
Knowing and developing the strengths of each employee.
Involving the employee in setting challenging goals.
Ongoing conversations with each employee.
In a 2016 article, "Do Employees Really Know What's Expected of Them?" by Brandon Rigoni and Bailey Nelson, Gallup studies show that:
72% of millennials who strongly agree that their manager helps them establish performance goals are engaged. And across all generations, individuals who strongly agree that their manager helps them set performance goals are nearly eight times more likely to be engaged than if they strongly disagree with the statement.
While it is common to attack millennials as lazy, please note that all generations are more engaged with managers who help them with performance goals. I think this should be obvious, but as the saying goes, "common sense is not so common." All humans, not just those between 20 and 40, want to feel they provide value at work, want to feel valued by the organization, and want to feel their work has meaning. Millennials are just vocal about it.
It is clear the old model of giving a brief orientation and some forms to employees will no longer work if it ever did. Hire and forget until time for the annual review is not going to work in the 21st-century American workplace. Engaged employees require engaged managers. This means we must be training managers to look beyond static annual or semi-annual performance. Managers can no longer be a remote "boss" but need to transform into partners with the employees to achieve the greatest success.
So, if you are a manager, how do engage your direct reports? If you are a leader, how are you helping your managers engage with their direct reports? Answering these questions will be the key to unlocking your employee engagement and executing the vision and mission of your organization.
This article was originally published at TalkForward.com. © 2018 Bryan G. Stephens