Americans can understand that cars carry great cultural weight and that the bond between an owner and their car can even cross over into fanaticism. The car also has had great symbolic value in more than just American culture. In the country of Georgia, the car was an import and it shows in their language about cars. There are practically no native words about cars in the Georgian — everything they say about cars use loan words from other languages. Many Georgians think most of the words have a Russian origin but the vast majority of the words come from French and English, as you would expect.
One of the earliest treatments of cars I have seen in Georgian literature was in the book called Ali and Nino. The book setting is mostly in Azerbaijan but it the title character of Nino is from Georgia and the book makes some very insightful comments about Georgia and Tbilisi of the era. The key part, for us, comes when Nino has been seduced away from her true love, Ali, by the Armenian Melik Nachararyan. Melik is modern and European in outlook and seduces Nino at the Opera promising her all the wealth the West has to offer. In a moment of weakness Nino agrees and they flee Baku in a car. Ali discovers this and steals a stallion, a true war horse, bred from generations of war horses in the mountainous valley of Nagorno-Karabakh.
The entire chase and fight can be interpreted in highly symbolic terms. As much as Ali loves the horse that runs like a dream and seems tireless, he knows the car is faster and better. However the land itself, the sweet Asian land of Azerbaijan, betrays the car as the road is rough and pock-marked, slowing the car. The horse, true to its nature, works with the land and catches up with car. Brought to bay, Ali and Melik fight and while Ali's righteous fury carries him to an early advantage, Melik's Western training as a boxer takes a toll on him. It looks like Melik might win the fight.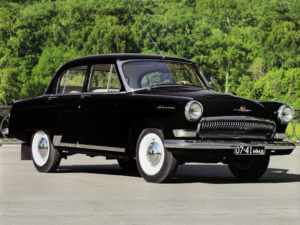 Ali then throws away all pretense at civilization and gives in to his Asian, nearly animalistic fury, Ali bites Melik which makes Melik drop his defenses and Ali plunges a dagger into him, killing him. Ali's friend on scene is in ecstasy at the purity and beauty of the murder and fully expects to see Ali kill Nino right there but instead, at the sight of Nino, Ali remembers his love. His fury fades and he has mercy on her, much to the disappointment of his friend. The Western car is abandoned on the broken road — a powerful tool used in a place it was not meant to be. The horse is reclaimed by his Russian owner who can't get past the murderous act the horse took part in. Sadly the Russian can no longer ride this horse to battle in World War I, and he shoots it.
The car has always been something foreign to Georgia and it remained that way after the Soviet Union conquered the country in 1921. After World War II, the Soviets had a lot of rebuilding to do and they planned larger boulevards, highways, and streets to handle a lot of cars and trucks, but there were few cars to use them. In early Georgian movies, the cars were very few but the streets were very big and there were many shots of people walking those huge streets in big cities that had no cars on them. An entire generation of Georgians fell in love with these streets, treating them something like public parks, where they had parties, dried laundry, and hung out with friends. In my time there, I could still see a few of the older generation stare down cars with resentment, as if the car was an intruder on streets built for people.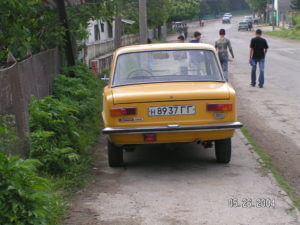 As the Soviet Union got going, as all central planners, their initial urge was to brag and strut their stuff. As the cars rolled off the production line they had to be better than the Western ones. They were sturdy, well made, and completely reliable. They were also expensive.
Making the Volga and the Lada in vast numbers and making their reliability high was expensive. No matter how much you try and do away with price, price won't go away. Unable to figure out how to organize themselves to meet the demand for cars, the Soviets decided to start issuing cars through a lottery system to limit the number of cars the public owned and they started two different lines of production. The cars that were to go to Europe or be exposed to outside powers would still be high quality, or at least as high as the Soviets could manage; the cars for internal consumption would be very low quality. If someone got a car in Soviet times they quickly figured out they had to carry tools because the very vibration of driving the car would start to shake it apart. On any long journey a driver would have to stop two or three times and tighten bolts, add screws and reconnect hoses or they would have to be willing to allow parts of their car to just drop off on the road side.
It should not be said that the Soviets never responded to public demand. When people complained about having to constantly repair the cars en route, the Soviets built cement car ramps alongside the roadways. These ramps allowed people to drive the car up on the ramp, making it easy for the drivers to get underneath them and add the screws and bolts as needed to hold it together.
The lottery systems, the different lines of production, and the relentless conformity of the models had an interesting effect. Instead of having a love affair with cars, Georgians saw them as signs of corruption, something they wanted and needed, but also a symbol of their repression. The Georgians loved their cars but hated them too.
Corruption in the Soviet system was a lot like money in Capitalism. The more corruption you were able to swing, the greater was your wealth. The amount of rubles didn't matter as much as your connection and what someone could shake out of the government. Join the Communist Party and your name moved up the lottery; have a relative in charge of a factory or farm, your name moved up the list; close relative in the higher Soviet government, your name moved up the list.
You could also win a place higher on the list by doing something really remarkable at work (if your boss was honest) and you could move up the list over time. So if you worked in one place on average for 12 years, you had shot at winning a car. All kinds of bureaucratic nightmares, however, could derail your rating and many people waited 20 years to own a car. If you were a young person and you had a car, it was a sure sign of corruption. Imagine what it was like for good workers to wait 20 years only to find that their car was already starting to fall apart. The despair of the Communist life starts to come home for you.
With independence, the car pretty much vanished from Georgia as the country was racked with civil war and economic crisis. The demand for cars remained robust but it was impossible to import them. Also, as the Soviet Union started its collapse, the quality of the cars dropped dramatically. The wagon made a comeback, as did the use of horses. People went to great lengths to keep older Ladas and Volgas on the road and get a visa to go to Germany where a used car could be purchased cheaply and resold in Georgia for a handsome profit.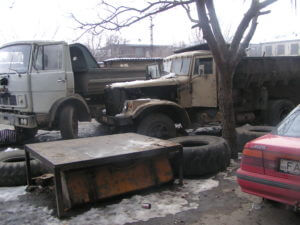 With desire, cars became a status symbol in Georgia with people pouring enormous amounts of their wealth into them. The type of car you had quickly marked your social status and even showed where you lived in Georgia. If you drove a new European-made car, you were one of the elite ruling class. If you drove a used European car, you were most likely a upper-middle-income person working in Tbilisi. If you drove a Soviet era car or a very old European one, you were one of the great mass of peasants that lived in Tbilisi or other regions of Georgia.
In 2005 George Bush took an interest in Georgia, and American cars started coming in large numbers for the first time. It was hard to find parts for them and few people knew how to work on them, but they were suddenly cheap and plentiful. The car started to be associated with the West and freedom.
Finally though, as the market began to supply the demand for cars in Georgia, everyone could get a car but the roads in Georgia could not handle the traffic. The road went from being empty and clear to being overcrowded and dangerous. Georgia loses nearly as many people in auto accidents every year as does all of the United States of America. People began to curse the car with as much fervor as they once desired one, and reckless driving became a major theme on television news, which ran very graphic footage of car accidents caught on tape. So the car as an import is still highly desired and is a status symbol, but it is nearly as hated as it is loved and viewed by many with resentment.
The car is something that has never really been organic to Georgia and seems to be imposed by the outside world. It does not quite fit in with the people or with the land but it seems to be very necessary for life and is desired by many. The love-hate relationship that Georgians have with cars will continue until they can make peace with the modern age and can build the roads that allow their people to drive as freely and comfortably as they have always desired.