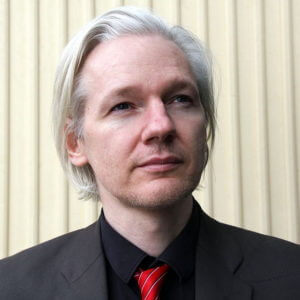 CNN reports that US authorities are building a case against WikiLeaks founder Julian Assange and are seeking his arrest:
Last week in a speech at the Center for Strategic and International Studies in Washington, CIA Director Mike Pompeo went further than any US government official in describing a role by WikiLeaks that went beyond First Amendment activity.

He said WikiLeaks "directed Chelsea Manning to intercept specific secret information, and it overwhelmingly focuses on the United States."

"It's time to call out WikiLeaks for what it really is: A non-state hostile intelligence service often abetted by state actors like Russia," Pompeo said.

US intelligence agencies have also determined that Russian intelligence used WikiLeaks to publish emails aimed at undermining the campaign of Hillary Clinton, as part of a broader operation to meddle in the US 2016 presidential election. Hackers working for Russian intelligence agencies stole thousands of emails from the Democratic National Committee and officials in the Clinton campaign and used intermediaries to pass along the documents to WikiLeaks, according to a public assessment by US intelligence agencies.

Still, the move could be viewed as political, since Assange is untouchable as long as he remains in the Ecuadorian embassy, and Ecuador has not changed its stance on Assange's extradition.

Attorney General Jeff Sessions said at a news conference Thursday that Assange's arrest is a "priority."

"We are going to step up our effort and already are stepping up our efforts on all leaks," he said. "This is a matter that's gone beyond anything I'm aware of. We have professionals that have been in the security business of the United States for many years that are shocked by the number of leaks and some of them are quite serious. So yes, it is a priority. We've already begun to step up our efforts and whenever a case can be made, we will seek to put some people in jail.
Before publishing Democrat emails, WikiLeaks posted classified files stolen by US Army intelligence analyst Bradley (now Chelsea) Manning in 2010. The group also played an active role in helping NSA analyst Edward Snowden disclose many more classified documents.
What are your thoughts? Should Sessions indict Assange or leave him alone?