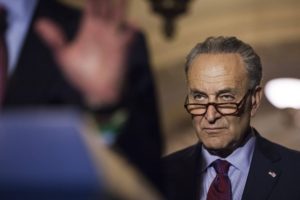 We have a classic finger-pointing moment: Trump has had few positions filled in his administration, and theories abound on why appointments are taking so long. Of course, most opinions are driven by partisanship. But I'm going to try to clarify what is actually going on—or not going on.
One reason for the delays is that the Trump administration got off to a very slow start. There are 559 government posts that require Senate confirmation. On "Fox and Friends" Trump said, "I look at some of the jobs, and it's people over people over people. What do all these people do?" He suggested he might not want to fill all those positions. But to conduct deep cuts, people need to be hired at the higher levels to decide which positions should be eliminated.
Other steps in the vetting process are causing delays, such as White House aides who must give their approval. And some potential nominees are not happy about the five-year post-employment ban on lobbying.
In the last couple of months the administration has finally been providing nominees to the Senate. According to the Wall Street Journal quoting the Partnership for Public Service, "…as of June 28 Mr. Trump had nominated 178 appointees but the Senate had confirmed only 46. Barack Obama had 183 nominees confirmed by that date in his first term, and George W. Bush 130."
Even though Chuck Schumer blames the White House for the delays, he has admitted that the Senate had received 242 nominations but confirmed only 50 through June 30.
The WSJ, however, identified the Democrats as the culprits:
Democratic obstruction against nominees is nearly total, most notably including a demand for cloture filings for every nominee—no matter how minor the position. This means a two-day waiting period and then another 30 hours of debate. The 30-hour rule means Mr. Trump might not be able to fill all of those 400 positions in four years. The cloture rule also allows the minority to halt other business during the 30-hour debate period, which helps slow the GOP policy and oversight agenda.
There are other obscure rules that make the process slow and tedious, and the Republicans need to eliminate these barriers. Mitch McConnell is reluctant to make these changes happen.
The Washington Post claims that potential nominees are nervous about taking positions in the government:
Republicans say they are turning down job offers to work for a chief executive whose volatile temperament makes them nervous. They are asking head-hunters if their reputations could suffer permanent damage, according to 27 people the Washington Post interviewed to assess what is becoming a debilitating factor in recruiting political appointees.
Several people interviewed also described other reservations:
Potential candidates question whether they could make a lasting contribution in an administration whose policies often change directions. They worry that anyone in the White House, even in a mid-level post, faces the possibility of sizable legal bills serving on a team that is under investigation. And then there are the tweets.
'You can count me out,' said an attorney who served in the George W. Bush administration and has turned down senior-level legal posts at several agencies, including the Justice Department. This attorney, like others who talked candidly about job offers from the administration, spoke on the condition of anonymity, either because their employers do business with the government or they fear retribution from Republican leaders.
Fortunately, positions that don't require Senate approval are being filled. At the same time, these people aren't influential and have little to no say in decisions that are made at higher levels.
Although these appointments linger in the background of the controversies over health care, tax reform and, of course, Russia, there are people who still keep the wheels of government turning. They could be instrumental in carrying out policies on national security, economic progress, and international issues. They are the ones who are supposed to make things happen behind the scenes. On one hand, government still limps along; on the other, there may be gaps and missteps with not enough qualified people minding the store. And of course, there may be reason to be concerned about people who may not be invested in a successful administration.
As I said in my introduction, everyone seems to have a political axe to grind. In one way or another, filling these positions depends on the administration providing viable employees in a timely manner. The Republicans are also going to have to eliminate rules that cause roadblocks to Senate approvals. And finally, the Trump administration will find credible people if they find their way out of the scandals created by themselves and the MSM, and if they tone down the rhetoric. Let's hope they get on with it soon.